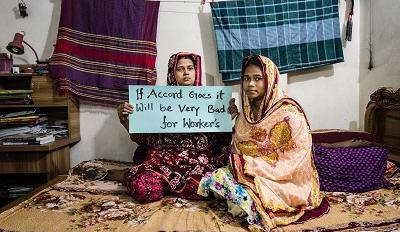 Five and a half years ago, after the deadliest manufacturing disaster ever – the Rana Plaza building collapse that killed at least 1,134 garment workers in Bangladesh – unions, NGOs, and consumers came together and called for brands and retailers to join a life-saving factory inspection program. Together, we convinced more than 200 apparel companies to sign onto the Accord on Fire and Building Safety in Bangladesh. Workers used to fear for their lives when going to work to sew T-shirts and jeans. Before brands joined with unions in the Accord, there were scores of fires with dozens of workers dying each year while producing clothes for brands in North America and Europe. But, today, the Accord covers 1,600 factories employing over 2.26 million workers who see real improvements in their factories. Thanks to the legally-binding agreement, factory fires and building collapses in Bangladesh's garment industry have been nearly eradicated with the installation of fire-rated doors, enclosed stairwells, and fire alarm systems.
Now, the program that has taken away the fear of entering the workplace for millions of workers is under threat.
Earlier this year, a factory owner refusing to pay for life-saving improvements for its workers sued the Accord. The Bangladesh High Court then used this case as an excuse to level a restraining order against the Accord that would force a premature shut-down of its operations in Bangladesh. If we don't speak out now, the Accord will be forced to leave the country as of November 30th. The Accord's office would be closed and its 250 in-country staff would no longer be permitted to do their important job of keeping workers safe. In a matter of weeks, factories that the Accord has inspected could become death traps once again, if factory owners return to their business practices of the past such as locking workers inside during business hours.
Many of the factories still have critical renovations that are scheduled to be made under the Accord's oversight, including strengthening the foundations and the walls that hold the buildings up. These are some of the costliest renovations needed to protect workers and, under the Accord, brands and retailers are responsible for ensuring financing. If the government forces the Accord to leave, the costs will fall solely on factory owners, who may not make the needed repairs.
The only way to protect the progress made by the Accord is to lift the restraining order so that it is permitted to continue operations in Bangladesh. That's why we're calling on the Prime Minister to signal strong support for allowing the Accord to continue its important work of making factories safe for millions of garment workers.
Some governments and Accord signatory brands have been speaking out in support of continuing the Accord's important work. Bangladesh relies on making and selling clothes to international consumers like us - it's time to raise our voices and make it clear that consumers want clothing made in safe conditions and won't stand for the expulsion of the Accord!
Photo by Kristof Vadino