September 27, 2017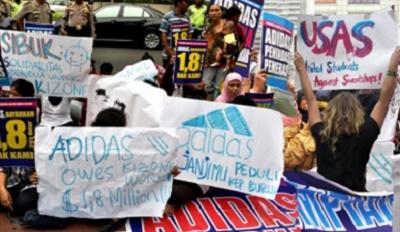 In August last year Iris Montoya came to work at the Rio Garment factory in San Pedro Sula, Honduras, where she had worked as a sewing machine operator for 11 years. At 11 a.m., the factory lights shut off and management escorted the workers outside, locking the doors behind them.
Management announced that the factory was shutting down operations that very day. Panic broke out. Workers were told to go home, barred from retrieving their belongings, and left without their last week's pay.
Three weeks later, when Montoya went to the hospital for foot surgery, she was denied coverage. Management had been deducting insurance from workers' paychecks for the past five months but had not been depositing the money into the health care system.
At the time of the closure, Rio Garment's 533 workers were owed $1.3 million in unpaid compensation and severance. Workers had to take harsh measures to meet their most basic needs, cutting back to a diet of rice and beans and going into debt to pay bills. Ever Madrid couldn't afford medication for his daughter with special needs. Rosa Chavarria was unable to get other work, finding that garment factories often don't want to hire older workers.
The case of Rio Garment is, unfortunately, not exceptional. For years, workers in the global apparel industry have been denied their legally required severance pay when factories close without warning. And for years, the brands whose clothing is produced there have denied any responsibility.
But in the past few years, international supporters and grassroots unions have combined forces to hold brands accountable and to set the precedent that multinational buyers are liable for the debts their suppliers owe to workers. The resolution of the Rio Garment case indicates that their pressure is working.
Victory in Indonesia
One such instance revolved around the PT Kizone factory in Indonesia, in which students, unionists, and activists, in a two-year international campaign, forced German retailer Adidas to pay severance to workers who lost their jobs.
In January 2011, PT Kizone's owner fled the country after running into financial problems. The factory had been producing for major sportswear companies including Nike and Adidas. By April, the factory had declared bankruptcy and shut down, leaving 2,700 workers without jobs and without the $3.4 million they were owed in severance pay and other compensation under Indonesian law.
Nike, which had been the target of a 2010 campaign for severance in Honduras that eventually cost it $2 million, paid $1.5 million in severance and back wages, together with its supply chain partners, soon after learning of the PT Kizone closure. But Adidas refused, and held out for more than two years. In fact, over the last decade, the Worker Rights Consortium (WRC) has documented five separate Adidas suppliers in Indonesia alone that closed without paying severance.
Adidas argued that its only obligation was to stop using suppliers that didn't pay owed severance, not to contribute the money itself. The corporation tried a series of maneuvers to deflect blame and attention, including a poorly executed attempt to distribute paltry food vouchers to workers instead of severance pay. Cash-strapped workers were forced to sell the vouchers below face value to pay rent.
Neither workers nor allies had any intention of compromising. While the PT Kizone workers committee demonstrated outside Adidas regional offices and German embassies, international activists based in Europe and North America collected more than 50,000 signatures in support of a fair severance payment. United Students Against Sweatshops launched a national initiative to cut university contracts with Adidas until the matter was resolved.
Seventeen universities either ended or pledged nonrenewal of their contracts with Adidas, after student activists held sit-ins, rallies, and store actions. Perhaps most important, the worker representatives who negotiated with Adidas refused to give in to multiple attempts to short-change the workers by paying less than the total owed.
In April 2013 Adidas reached a groundbreaking settlement: the company would pay the PT Kizone workers $1.8 million in severance. Adidas, the second largest sportswear brand in the world, had finally acknowledged its own culpability when its supplier failed to adhere to a code of conduct.
Way Paved
Three years on, the PT Kizone victory paved the way to a much easier and swifter resolution for the Rio Garment workers in Honduras. After the WRC documented the violations and contacted key buyers, these buyers, including collegiate licensee Tailgate, Gap, and Gildan Activewear (a major Canadian company), came to the table with the WRC and agreed to pay the workers' legally owed benefits. That's it. There was no protracted campaign, and no severed contracts nor financial or reputational harm done to a brand.
In April 2017, nine months after Rio Garment shut its doors, the 533 former employees were paid the full $1.3 million owed to them, mostly in cash paid by the brands, along with sewing machines provided by the factory as part of the agreement. On average, they received $1,800 per person, the equivalent of more than four months of average wages in the Honduran garment sector.
The PT Kizone and Rio Garment successes are building blocks to change standards in the global garment industry, where wage theft is rampant and overnight factory closures are commonplace. In part, these wins are a credit to university codes of conduct that require brands and their supplier factories to follow the law in the countries where they operate. The WRC calls university codes of conduct "one of the few mechanisms through which workers have repeatedly been successful in winning such restitution."
Another parallel between these two cases is the militancy of both unions. Neither victory would have been possible had there not been dedicated, tireless worker organizers who spent years fighting for justice. And, unlike many grassroots efforts that employers and the buyer brands have extinguished, this organizing did not happen in darkness. International NGOs and activists were closely watching to see how the brands would respond to the calls for severance. It seems Tailgate, Gap, and Gildan had no desire to spend two years as a target as Adidas had.
Even though the garment industry is rife with labor abuses, these victories confirm that when workers organize to fight violations in supply chains, and win, they can set precedents that benefit workers on the opposite side of the world. A former Rio Garment worker recently told the WRC, "I thank God we were able to receive our severance. I was able to pay off the money I owed and now I can give my daughter what she needs."