March 13, 2019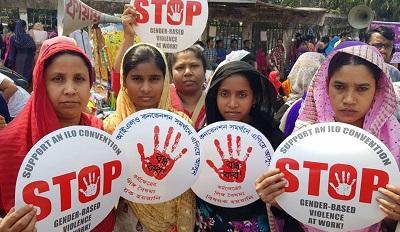 On International Women's Day, how much has the Trump administration back-tracked on what counts for those of us who say #metoo?
There is power in a definition. A definition is a shared understanding among people, a social knowledge. Yet in April of last year, the U.S. Department of Justice's Office on Violence Against Women quietly changed their definitions of domestic violence and sexual assault.
This change comes ahead of a discussion this June where the International Labour Organization (ILO) will decide on a convention on gender-based violence. Currently, there is no international standard for the definition of violence and harassment in the world of work.
All of this raises the question, who has the right to say what is and is not a specific kind of violence?
The new definition limits domestic violence to "physical harm that constitutes a felony or misdemeanor." The previous definition, developed in consultation with domestic violence experts, was significantly more expansive, and included reference to "behaviors that intimidate, manipulate, humiliate, isolate, frighten, terrorize, coerce, threaten, blame, hurt, injure, or wound someone." The change has excluded victims of emotional and psychological abuse, and removed reference to the dynamics of power and control that enable abusive situations.
The definition for sexual assault has also been changed, from "any type of sexual contact or behavior that occurs without the explicit consent of the recipient," to a definition that limits sexual assault to nonconsensual acts forbidden by law. Not only does that make the definition of sexual assault dependent on the whims of the current legislature, but it means that sexual assault can mean different things in different states. In addition, as many survivors of sexual assault can attest, the difference between "nonconsensual" and "explicit consent" is substantial and, as a result, the new definition falls short.
We know that gender-based violence is about power and control at its core. By removing behaviors except physical violence and focusing only on the criminal acts, the new definitions miss fundamental components of abuse. It will make it harder for survivors to come forward, to access services and funds, and to shift the culture of shame and skepticism to one of support and validation.
At the same time, the ILO is preparing to define and codify violence and harassment in the world of work for the first time. This binding convention will fill a gap that has left many victims of gender-based violence at work without strong protections, and will compel member governments, employers, and unions to take concrete action to prevent violence at work.
While the U.S. Department of Justice adopted a definition that relegates sexual assault and domestic violence to exclusively criminal matters, the ILO can set a more comprehensive worldwide standard that will serve as a guidepost for governments, including the United States in recognizing that these are complex issues that require a variety of resources and options. The workplace is a key location to detect and respond to domestic violence, and there are steps employers and unions can take to protect vulnerable populations.
The Trump administration's revised definition makes clear that a binding international standard on this issue is needed. The #metoo movement has brought about a new era of discussions on these topics. But without policy to back them up, this shift can't be used to prevent gender-based violence in real time on the scale that's needed. A strong international standard is a critical tool activists and institutions can use to ensure that victims aren't hurt when definitions change at the whims of an administration.
It's true that an ILO convention on this issue won't make an immediate impact on the U.S. Department of Justice's viewpoint. After all, the United States has only recognized fourteen of the 189 ILO Conventions, and this country is becoming more hostile to survivors of gender-based violence every minute. But it will send a clear message that their experiences are valid and recognized on an international stage, and will open up opportunities for support to come from employers and worker organizations as well.
The moment these two definitions changed, millions of people, this author included, were suddenly told that what happened to them no longer qualifies as domestic violence, or as sexual assault. There are enough forces in the world minimizing these experiences, and this convention is an opportunity to take a stand for them at a time when the Trump administration won't. An ILO convention on violence at work with comprehensive, inclusive definitions would be one step to counter these attempts to diminish and disempower survivors.