March 27, 2020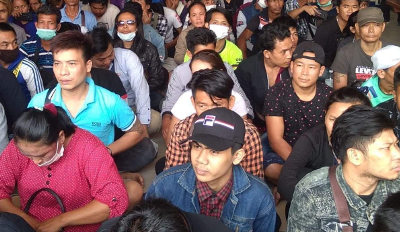 The partial lockdown of Bangkok and order by the Thai Interior Ministry to close 18 border points taking effect on March 23 triggered a mass exodus of migrant workers from Myanmar, Cambodia, and Laos, with estimates ranging between 60,000 and 200,000 people having left the country.  Few were able to practice social distancing in the crowded bus stations and border areas, raising fears of infection. The Myanmar and Cambodian embassies in Thailand are urging migrant workers to not return home in order to avoid spreading the virus.  The Thai government initiated a state of emergency effective from March 26th to April 30th with most types of businesses closed, except for banks, hotels, healthcare facilities, factories, the postal service, and several others.
The Thai government's temporary ban on cross-border travel between Thailand and neighboring countries failed due to the number of migrant workers trying to exit the country. The borders at Chiang Rai (North to Myanmar), Mae Sot (West to Myanmar), Sa Kaeo (East to Cambodia), and Nakhon Phanom (Northeast to Laos) were re-opened temporarily to avoid crowding at border checkpoint areas.
Migrant workers and advocates are concerned about food shortages if migrants are forced to remain in Thailand without work.  "We must go home, or we will starve to death in Bangkok," said a 28-year-old woman who was laid-off due to the partial lockdown in Bangkok. Dy Thehoya, of the Centre for Alliance of Labour and Human Rights (Central), expressed concern that if Cambodians need to sustain extended joblessness in Thailand, they would be in danger of hunger.
Migrants are entitled to COVID-19 screening and treatment regardless of legal status, with documented workers covered by the Migrant Health Insurance Scheme or the Social Security Fund. Those who are registered under the Social Security Fund are also entitled to benefits for loss of income due to the government order to suspend employment in certain sectors.
Migrant workers in certain occupations face heightened risk. The partial lockdown exempts construction, with hundreds of migrant workers heading to work this week on high-rise buildings and apartment complexes with only a few wearing face masks or bandanas around their nose and mouth. Many domestic workers have been dismissed by employers. Workers in entertainment and retail are also losing jobs due to the requirement to shut down such businesses.  
Local organizations supporting migrant workers in large commercial seafood processing factories explain that food factories typically have high hygienic standards and protocols regarding hand-washing, and that companies have added stricter measures, including limiting entry of vehicles, placing hand-washing stations at the entrance, and distributing face masks and alcohol gel. Due to the decrease in demand for seafood within the country, some smaller scale seafood-processing operations have suspended operations, impacting these workers who do not have a formal employment relationship and who are paid on a piece-rate basis.  
The Thai government is issuing communications mostly in Thai language, so local organizations are helping to translate and communicate health alerts and information about legal rights and protections to migrant workers in their own languages.
Due to migrant workers' heightened health and economic security risks, the Thai government and international agencies should take extra measures to include migrant workers in response plans and to provide necessary protections. Employers should consult unions and workers in advance of any proposed changes, including closures, reduction in workloads, or layoffs as a consequence of COVID-19. International brands should pay for orders they have already placed and contribute financially to ensure their suppliers meet legal obligations to severance for laid-off workers. The government and companies should ensure that information about COVID-19 health risks and the policy changes impacting migrant workers are communicated to migrant workers in their own languages. The government must also reform labor law so that migrant workers are afforded union rights so they can organize and advocate for themselves.
---
More resources:
Photos by anonymous: Crowding at the Mae Sot Friendship Bridge as thousands of migrant workers from Myanmar try to exit Thailand in late March 2020 following the COVID-19 lockdown orders.