January 30, 2018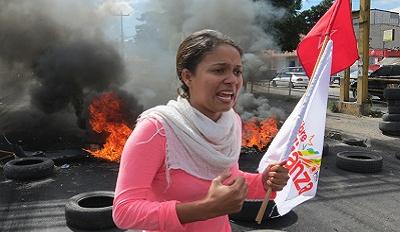 Today, Juan Orlando Hernandez takes the oath of office as President of Honduras with the full support of President Trump – despite overwhelming evidence of election irregularities and allegations of fraud in last November's presidential election in Honduras. This past week, Hondurans young and old took to the streets in a nationwide strike to denounce their stolen democracy, determined to liberate their country from what they call a de-facto dictatorship. Hernandez's National Party came to power in a 2009 military coup d'état and continues its violent reign today, supported and funded by the United States. 
On December 17, the Organization of American States (OAS) called for new elections based on the "extreme statistical improbability" of the official vote count. They reported "deliberate human intrusions in the computer system" and "intentional eliminations of digital traces". Three days before Christmas, the Trump administration undermined the OAS call and congratulated Hernandez on his victory, a move that legitimises and emboldens a dangerous regime. President Trump continues to chastise migrants in the United States, but actions like this further undermine democracy, fuel political violence and deepen the push factors that force migrants to flee north in the first place.
"¡Fuera JOH! Out with JOH!" is the rally cry heard in the distant background as tens of thousands of Hondurans continue marching on the streets, two months after the contested elections.
As each day passes, Honduran citizens are putting their lives on the line to fight for the future of their country. And each day, the authoritarian regime of Juan Orlando Hernandez, fed and fueled by the United States, tries to violently silence their conviction. For the Honduran people, this is not just about one fraudulent election. Accepting Hernandez is accepting four more years of state-sponsored violence, impunity and corruption. Honduran citizens want a future where they can feed their families, have decent wages and fully participate in their democracy, without fear of reprisal.
Meanwhile, the Honduran military police are carrying out targeted attacks against protest leaders, journalists and human rights defenders in the wake of the post-electoral crisis, according to a leading Honduran human rights organisation, COFADEH. Thirty-four social leaders have been forced to leave the country or relocate due to political persecution. COFADEH documentedexcessive use of violence strategically used against protesters to instill fear and squash dissent. They cite use of torture, kidnappings, arbitrary detention and extrajudicial killings, among many other tactics. Thirty people were killed and hundreds gravely injured during anti-fraud protests between November 30 and December 31, mainly at the hands of the military and special forces.  
These deaths are a stark reminder for Hondurans, who suffered a similar wave of violence against human rights defenders after the illegal coup d'état in 2009, led by Hernandez and backed by the United States. Since then, Hernandez has been a loyal ally in Washington's effort to stem the flow of drugs and migrants from reaching US borders. Honduras has received nearly $114 million dollars of security aid since 2009, used to train and fund elite military police units deployed to fight gangs and drugs on the streets. The result has been a dangerous expansion of military and authoritative power that has taken civil society hostage.
Honduran military police are notoriously corrupt and overwhelmingly implicatedin egregious human rights abuses against indigenous leaders, trade unionists, journalists, land-rights activists and lawyers. The Inter American Court of Human Rights (IACHR) described Honduras as "one of the most hostile and dangerous countries for human rights defenders".  Hernandez himself has repeatedly and publicly charged human rights defenders with undermining the country. Just last year, his administration revised the penal code to criminalise anti-government protest and anti-government media coverage as acts of terrorism.  
Furthermore, Hernandez is surrounded by widespread allegations of corruption. Members of his military are allegedly linked to drug trafficking and organised crime. He even admitted to stealing funds from the National Health Service to divert them into his 2013 election campaign.
Despite the corruption scandals and deteriorating human rights situation under the Hernandez regime, the United States continues to support Honduras, a strategic partner in its war on immigration and on drugs. Yet overlooking breeches in the rule of law and repression of the democratic rights of the Honduran people has long-term costs. If the United States truly wants to make an effort to promote regional stability, it needs to start by supporting the democratic will of the Honduran people. Otherwise, violent state practices will thrive and migrants will continue fleeing north in search of safety.
Originally published on OpenDemocracy.