Seafood Working Group Recommend U.S. Downgrade Taiwan to 'Tier 2' and Keep Thailand on 'Tier 2 Watchlist'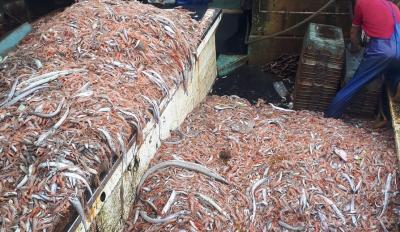 BANGKOK, Thailand – Global Labor Justice-International Labor Rights Forum (GLJ-ILRF) and allies in the Seafood Working Group (SWG) today announced their findings of labor rights violations, forced labor, and human trafficking of migrant workers in Thailand and Taiwan, and called on the U.S. government to use its Trafficking in Persons (TIP) Report 2022 to put pressure on the governments to end these abuses. 
At a briefing with allies in the SWG, forced labor survivors, workers, unions and civil society organizations supporting migrant workers in the seafood sector and other industries spoke out about human trafficking, forced labor and labor rights in Thailand and Taiwan. 
"Thailand and Taiwan continue to turn a blind eye to labor rights abuse and forced labor remaining in their seafood industries, which supply consumers and brands across the globe," said Kimberly Rogovin, Senior Seafood Campaign Coordinator at GLJ-ILRF. "Both countries have discriminatory legal and policy frameworks that fail to promote and protect labor rights for vulnerable categories of workers. Labor rights, particularly freedom of association and collective bargaining, are critical to forced labor prevention, yet both countries often deny or restrict these rights for migrant fishers." 
In 2021, Thailand was downgraded to 'Tier 2 Watch List' in recognition of ongoing forced labor of migrant workers throughout the Thai economy, and the SWG's recommendation to the U.S. government is that the country remain there. Meanwhile, Taiwan has stayed at 'Tier 1' for twelve consecutive years despite well documented forced labor in its fishing sector. The SWG urges the U.S. State Department to downgrade Taiwan to 'Tier 2.'
"With the poor working conditions and the government's disregard for basic  labor rights, it's clear that Taiwan does not meet the minimum standard of Tier 1 ranking in the TIP report. Instead of protecting workers, the government prioritizes the interests of employers and utilizes the state apparatus to harm human rights. Under the flawed labor protection mechanism in the law workers do not have true rights to freedom of association and collective bargaining. We firmly believe that in this year's TIP report, Taiwan should be downgraded to the Tier 2 ranking," said Allison Lee, Secretary General of the Yilan Migrant Fishermen Union (YMFU).
As the report shows, Thailand was appropriately downgraded in 2021 and should remain at Tier 2 Watchlist in 2022. Numerous factors determining the downgrade have not shifted and the Government of Thailand continues to fall short. In particular, the government instituted a series of COVID-19 policies that restricted migrant workers' movement and access to social benefits, increasing their vulnerability to labor trafficking and exploitation," said Roisai Wongsuban, Program Advisor, The Freedom Fund. 
The briefing highlighted findings and recommendations based on the formal comments submitted by the SWG to the U.S. Department of State's 2022 TIP Reports on Thailand and on Taiwan. The annual TIP Report has been the U.S. government's principal diplomatic tool for engaging foreign governments on these issues for decades and has remained a critical driver of reforms in many countries. 
"This research shows forced labor and serious abuses are still rampant in seafood supply chains alongside growing limitations on freedom of association and closing civil society space," said Jennifer (JJ) Rosenbaum, Executive Director of GLJ-ILRF. "The U.S. State Department rankings should keep Thailand on Tier 2 Watch List and downgrade Taiwan to Tier 2 in recognition of the risks on corporate supply chains that operate in the region."
Key findings from the SWG's Comments Concerning the Ranking of Thailand in the 2022 Trafficking in Persons Report:
The government instituted a series of COVID-19 policies that increased the vulnerability of migrant workers to labor trafficking and exploitation, including lockdowns of communities and movement restrictions. 

Continued to deny migrant workers their fundamental rights to freedom of association and collective bargaining, maintaining the law that reserves these rights to Thai nationals, and putting forward a new COVID-19 policy that restricts the right to strike.  

Failed to protect workers from retaliatory Strategic Lawsuit Against Public Participation (SLAPP) lawsuits brought by employers and by the government itself against at least 19 workers, unionists, and advocates across the seafood processing, poultry, state railway, and other industries during the reporting period.  

Introduced draft legislation during the reporting period that would restrict the operations of NGOs and have damaging impacts on migrant worker organizations and other organizations working to combat human trafficking.

Failed to conduct regular, effective labor inspections of fishing vessels and seafood processing factories.

The long-standing practice of bribery and extortion of undocumented migrant workers has worsened during the pandemic.

Law enforcement officials have routinely arrested and deported migrant workers who entered Thailand through irregular channels, even when indicators of human trafficking were apparent.

Failed to protect prisoners from extremely abusive working conditions likely amounting to forced labor, including in the production of fishing nets for export to the United States.
Key findings from the SWG's Comments Concerning the Ranking of Taiwan in the 2022 Trafficking in Persons Report:
Taiwan has not taken the necessary steps to protect victims of human trafficking, due to a narrow interpretation of human trafficking and ineffective procedures to identify and provide services to such victims. The authorities failed to conduct timely investigations into the working conditions on the Da-Wang and Chin-Chun No. 12 vessels, despite strong indicators of human trafficking, until the U.S. government issued a trade ban. 

The lack of labor inspections on distant water fishing vessels has allowed potential victims to be undetected and thus outside the government's safety net.

Recruitment agencies continue to charge migrant workers with illegal job purchasing fees and deposits as well as confiscating their identity documents.

Migrant fishers in the distant water fishing industry are exploited by the "two-tiered" employment system, under which they are afforded with less protection and welfare, including a lower minimum wage and insurance coverage. 

While Taiwanese law permits foreign migrant workers to form unions, migrant fishers in the distant water fleet have limited access to unions due to restrictions in Taiwanese law, employer intimidation, and discrimination. 
Thailand and Taiwan play pivotal roles in the international seafood trade, meaning that U.S. consumer markets remain inextricably tied to abusive practices. Despite constant pressure from civil society, media, and processes, such as the TIP mechanism, abuses continue, and many of the underlying causes have yet to be addressed. 
GLJ-ILRF recently filed suit against Bumble Bee Foods, LLC – North America's largest canned tuna brand–  in U.S. court over its false and deceptive marketing claims that it sources its tuna through a "fair and safe supply chain." The lawsuit details evidence that Bumble Bee and its main supplier and parent company, Taiwan-based seafood trader Fong Chun Formosa Fishery Company, Ltd.,  have a long history of engaging in or allowing unfair and dangerous labor practices in the commercial fishing of the tuna consumers find behind the Bumble Bee label. 
A recording of the panel discussion will be available on Facebook.
 
Click here to read the comments from GLJ-ILRF  to the U.S. State Department on Thailand and Taiwan 
###
GLJ-ILRF is a non-profit public-interest organization dedicated to achieving dignity and justice for workers worldwide. GLJ-ILRF focuses on enforcing labor rights and promoting decent work conditions consistent with best practices and ILO standards in the low-wage sections of global supply chains such as commercial fishing. GLJ-ILRF engages in research, policy work, advocacy, and education of the public and consumers.