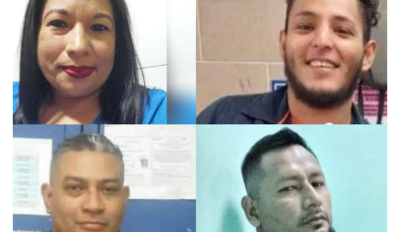 Washington– Global Labor Justice-International Labor Rights Forum  (GLJ-ILRF) expresses deep sadness and indignation over the murder of 13 people by armed assailants on June 24 at a billiard hall in Choloma, Honduras, including the president and three other union leaders from Sindicato de trabajadores de Gildan San Miguel (SITRAGSAM). 
Xiomara Beatriz Cocas, SITRAGSAM president; Delmar Josue Garcia, former union president and current delegate; Jose Rufino Ortiz Escobar and Lester Arnulfo Almendarez Garrido, union delegates; as well as Xiomara Cocas's son Eduardo Alexander Meléndez were killed.
We condemn this act of terror that comes as multinational textile giant Gildan plans to close its plant in San Miguel, Choloma, which will leave more than 2,700 workers without jobs to support their families. The union was in talks with the company about the closure.
We call on the government and authorities in Honduras to carry out a thorough investigation of the facts and to provide justice for our fellow union leaders and their families, as well as to guarantee the necessary protection for trade unionists and labor rights defenders in Honduras.
We also demand Gildan take the appropriate measures to ensure the safety of its workers during this difficult period.
We stand in solidarity and share our deepest condolences with the families of our trade union siblings, their union SITRAGSAM and the entire labor movement in Honduras.
###
Global Labor Justice – International Labor Rights Forum (GLJ – ILRF) is a non-governmental organization that works transnationally to advance policies and laws that protect decent work; to strengthen freedom of association and workers' ability to advocate for their rights; and to hold corporations accountable for labor rights violations in their supply chains.