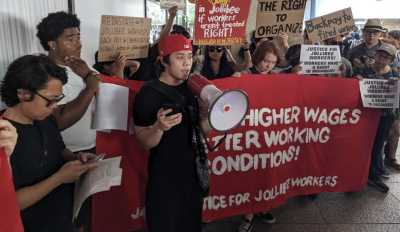 Washington - Global Labor Justice-International Labor Rights Forum (GLJ-ILRF) stands in solidarity with nine workers from the Jollibee fast food restaurant in Journal Square in Jersey City, New Jersey, who were recently terminated for exercising their right to organize for better working conditions. 
Jollibee is a fast food chain from the Philippines with branches in twenty-one countries; the nine terminated workers are all first or second generation Filipino Americans. Jollibee has also violated labor laws in the Philippines: in 2018 the Philippines' Department of Labor and Employment found that Jollibee misclassified employees as independent contractors, preventing them from having security of tenure. It also found that Jollibee made unauthorized and unlawful deductions from employees' wages. 
At GLJ-ILRF, we support the rights of workers to organize freely, no matter where in the world they are, in line with their fundamental labor rights. We stand with Jollibee workers fighting for job security, wage increases and the right to organize and call on Jollibee to treat their workers with respect and  comply with established domestic and international labor laws in all the countries in which it operates. We join the Jollibee workers' demands for change and call on Jollibee to:
Uphold Jollibee workers' rights to organize at all branches worldwide;

Reinstate the fired workers with back pay and compensate their lost wages;

Publicly apologize for retaliating against workers exercising their right to organize.
GLJ-ILRF is proud to support the #Justice4Jollibee Campaign, and we call on Jollibee to respect its workers' rights in all branches. 
###
Global Labor Justice – International Labor Rights Forum (GLJ – ILRF) is a non-governmental organization that works transnationally to advance policies and laws that protect decent work; to strengthen freedom of association and workers' ability to advocate for their rights; and to hold corporations accountable for labor rights violations in their supply chains.