The second field investigation in a year documents systemic labor violations on Indofood-owned palm oil plantations in Indonesia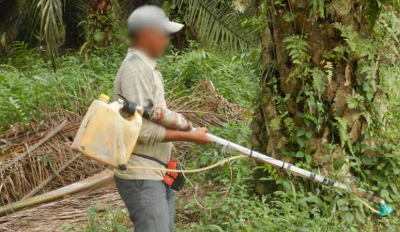 An independent report released earlier this week has again found that labor violations are rife in the palm oil plantations owned and operated by global food giant PepsiCo's joint venture partner Indofood. Indofood is the sole producer of PepsiCo-branded snack food in Indonesia and one of the largest palm oil growers in the world.
This report, the second in a year, comes on the heels of "The Human Cost of Conflict Palm Oil: Indofood, PepsiCo's Hidden Link to Worker Exploitation in Indonesia," a report published in June 2016 by Rainforest Action Network (RAN), Indonesian labor rights advocacy organization OPPUK, and International Labor Rights Forum's (ILRF) which first exposed PepsiCo joint venture partner Indofood's labor rights violations. Accreditation Services International (ASI), the accreditation body to the palm oil industry's certification scheme Roundtable on Sustainable Palm Oil (RSPO), carried out an assessment of Gunung Malayu, an Indofood palm oil mill and supply base and RSPO certificate holder.
RAN, OPPUK, and ILRF investigated labor conditions on two Indofood palm oil plantations in North Sumatra and found the use of child labor, exposure to highly hazardous pesticides, payment below the minimum wage, long-term reliance on temporary workers to fill core jobs, and suppression of independent labor union activity. ASI's assessment, carried out on a third Indofood plantation, found violations of Indonesian labor law, unsafe and inconsistent practices for use and storage of pesticides, a lack of contracts for casual workers prior to 2016, contract terms for casual workers which prevent them from meeting the basic minimum wage, lack of registration for social benefits for all workers, and discriminatory employment terms.
"ASI's findings confirm what we've long known: Indofood is systematically violating the fundamental rights of workers on its palm oil plantations. These are not isolated incidences of workers' rights abuses, but appear to be deliberate labor practices intended to cut costs. Meanwhile workers' livelihoods and rights are simply an externality," said Herwin Nasution, Executive Director of OPPUK.
This second report should cast further concern for those that do business with Indofood. Numerous Indofood buyers, joint venture partners, and financiers were called out in "The Human Cost of Conflict Palm Oil: Indofood, PepsiCo's Hidden Link to Worker Exploitation in Indonesia," for relationships with Indofood, its plantation arm IndoAgri, and its parent company First Pacific. These include PepsiCo, Nestle, Unilever, Procter & Gamble, Musim Mas, Golden Agri Resources, and Wilmar; Japanese-based banks Sumitomo Mitsui Financial Group, Bank Mizuho and the Bank of Tokyo-Mitsubishi UFJ; European-based HSBC, Rabobank, Standard Chartered, BNP Paribas and Deutsche Bank; and US-based Citibank.
"As yet another report states that Indofood is violating the fundamental rights of workers on its palm oil plantations, Indofood buyers, business partners and investors best beware," said Robin Averbeck,  senior campaigner with Rainforest Action Network (RAN).
PepsiCo has been the target of a major public campaign related to Indofood as it released an updated palm oil policy in September 2015, which exempts its joint venture partner from meeting the same responsible production standards set for PepsiCo's other palm oil suppliers.
"It is past time for PepsiCo to step up to the calls of its consumers to publicly address worker abuses and other Conflict Palm Oil Practices by its partner Indofood," Averbeck continued.     
Alarmingly, ASI's report also found evidence that certain documents and records may have been "prepared on the spot" or altered by Indofood management.  If true, such practices would violate the RSPO Code of Conduct and be possible grounds for suspension from the organization.  
"Any RSPO-certified company unwilling to freely open their books to a RSPO assessment should be suspended," said Eric Gottwald, Legal & Policy Director at the International Labor Rights Forum. "The RSPO must enforce its rules."
Indofood and PepsiCo were given the opportunity to respond to the key findings of RAN, OPPUK, and ILRF's report prior to publication. Indofood declined to comment on the findings, while PepsiCo stated that it takes any labor and human rights concerns raised very seriously and has strong human rights policies in place.
Download ASI's Assessment here: http://www.accreditation-services.com/resources/document-library/download-info/asi-rspo-sai-pc-compliance-indonesia-2016
Download RAN, OPPUK and ILRF's report here: ran.org/indofood
### 
Rainforest Action Network runs hard-hitting campaigns to break North America's fossil fuels addiction, protect endangered forests and Indigenous rights, and stop destructive investments around the world through education, grassroots organizing, and non-violent direct action. For more information, please visit: www.ran.org
The International Labor Rights Forum (ILRF) is a human rights advocacy organization dedicated to achieving just and humane conditions for workers worldwide. ILRF works with trade unions and community-based labor rights advocates to expose violations of workers' rights, including child and forced labor, discrimination, and violations of workers' rights to organize and bargain collectively.
OPPUK is an Indonesian labor organization founded in 2005 by student activists and workers concerned about palm oil workers' working and living conditions in North Sumatra, Indonesia. OPPUK organizes and educates workers, conducts research and advocacy, and campaigns for the rights of palm oil workers in North Sumatra and Indonesia more broadly.