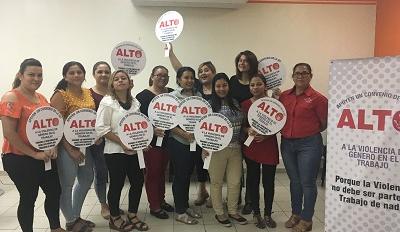 The International Labor Rights Forum celebrates the International Labour Organization's adoption of both a Convention and a Recommendation on Violence and Harassment in the World of Work. The historic treaty passed today at the ILO's centennial assembly in a 439-7 vote, with 30 abstentions. This is the first international standard specifically aimed at addressing these issues in the workplace – and it's all because of the tireless organizing by unions and worker centers around the world.
Last week we wrote about three critical elements that the labor side fought to include in the Convention and Recommendation; all three are covered in the new standard:
Now, the struggle must continue. An international standard is only valuable when it can be leveraged to protect workers on the ground in real time. Each individual country must now ratify the Convention, and unions are already preparing for country-level campaigns to get their elected officials to vote in support of it.
While governments have a specific process for ratification, that doesn't mean action needs to wait on the legal process. And multinational corporations should not wait for new national laws to implement strong policies against gender-based violence in their supply chains.
For information on actions that businesses can take in their workplaces and in their supply chains on this important issue, we recommend the following resources: