Amount is Approximately Half of What Chairman Stephen Schwarzman Reportedly Spent on His 70th Birthday Party; International Social Media Campaign Launched to Persuade Financial Giant to Do What Other Apparel Players Now Do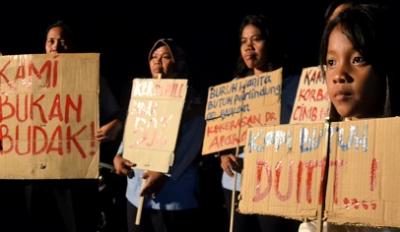 In light of new reporting by Ken Silverstein, the International Labor Rights Forum, AFL-CIO, United Students Against Sweatshops, and Global Labor Justice are calling on the Blackstone Group to pay Indonesian workers $10.8 million in legally owed terminal benefits. Four years after the Jaba Garmindo  factory closed, the workers are desperate to receive the approximately $2,700 each that they are owed.  According to Silverstein in The New Republic, the total amount owed is equivalent to "about half of what [Blackstone Chairman Stephen] Schwarzman reportedly spent on his 70th birthday party," but for workers, their share represents "a sum larger than they are otherwise likely to see at any one time in their lives." In solidarity with the Indonesian workers, some of whom will be touring Europe this month to call attention to the case, international labor advocates are demanding Blackstone make the workers whole through a social media campaign and petition.
Jaba Garmindo employed some 4,000 workers when it closed in 2015 without paying legally required severance pay and other compensation. These workers produced garments and apparel for international brands such as Uniqlo and Jack Wolfskin, which was owned by the Blackstone Group at the time. As one worker interviewed told Silverstein, "'I'm very angry at the factory owner because he collected all of the profits and tossed us out like trash.'"
Failure to pay severance is a critical problem facing workers in the global garment industry and is especially widespread in Indonesia.  Although factory owners are required to follow national law regarding severance, factories consistently fail to set aside funds to meet their obligations, and brand auditors rarely verify whether they are doing so. 
By failing to make the workers whole, Blackstone is lagging behind other firms. Over the past decade, student and consumer pressure has successfully pushed international apparel brands to take responsibility for funds denied workers when their factories close. In a landmark case in 2010, after significant pressure from United Students Against Sweatshops and from U.S. universities, Nike directly compensated workers for legally required severance owed by two supplier factories in Honduras. Since then, in response to demands by workers and international advocacy organizations, Disney, Fruit of the Loom, Hanesbrands, adidas, Nike (again), H&M, Walmart, and other firms have either directly compensated workers denied severance or required their supply chain partners to do so in Honduras, El Salvador, Indonesia, Bangladesh, and Cambodia, totaling tens of millions of dollars.