Procter & Gamble major importer of "illicit" palm oil products produced by Malaysia's FGV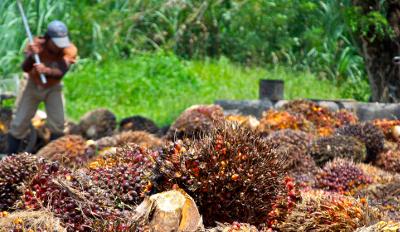 Today a coalition of labor, environmental, and social justice NGOs filed a formal complaint with U.S. Customs and Border Protection (CBP), seeking to stop the importation of palm oil products produced by FGV Holdings Berhad (FGV), one of Malaysia's largest palm oil companies and a joint venture partner of Procter & Gamble. 
The complaint cites recent field reports documenting cases of forced labor and human trafficking on FGV-owned palm oil plantations across Malaysia. Under the Tariff Act of 1930, U.S. Customs is required to deny entry to goods that arrive at U.S. ports if there is reasonable cause to believe they contain materials made with forced labor. 
This is the second Tariff Act complaint this summer against FGV, now adding new and more detailed evidence to the previous one filed by the law firm Grant and Eisenhoffer. 
"We are calling on U.S. Customs to enforce current law and prevent American consumers from unknowingly funding forced labor with each illicit FGV palm oil product sold," said Judy Gearhart, Executive Director of the International Labor Rights Forum. "CBP needs to issue a detention order on all imports of these products, and direct port managers to block their release into the U.S."
Palm oil and palm oil products produced by FGV come into the U.S. through several different traders and buyers. One of the most significant among them is the consumer goods company Procter & Gamble, which operates a joint venture with FGV called FPG Oleochemicals (FPG) to refine FGV palm oil and palm kernel oil for use in Procter & Gamble products such as Tide, Olay, Head & Shoulders, and Pantene. According to U.S. Customs' import data, Procter & Gamble has imported over 14 million pounds of palm oil products processed by FPG into the United States since July 2018. 
"Procter & Gamble has knowingly profited from FGV's forced labor practices for years," said Fatah Sadaoui, Campaign Manager for SumOfUs, a global consumer watchdog organization. "Over 160,000 global consumers have called on Procter & Gamble to hold FGV accountable for forced labor on its plantations, but their calls have gone unanswered. Procter & Gamble's inaction is simply unacceptable. Palm oil workers and global consumers deserve and demand more." 
Malaysia is the second-largest producer of palm oil in the world, and FGV is one of the largest palm oil companies in the world. FGV first came under international scrutiny for its labor practices following a 2015 investigation which revealed that migrant workers on several FGV operated plantations in Peninsular Malaysia were denied payment for their work for weeks, sometimes months; and their passports were retained to prevent them from leaving or standing up against the abuse. The report detailed other worker rights abuses, such as debt bondage and violent forms of human trafficking. Follow-up investigations by Accreditation Services International (ASI) in 2015 and Wild Asia in 2016 confirmed the abuse. The Roundtable on Sustainable Palm Oil (RPSO), the leading palm oil certifier, suspended the certification of one of FGV's mills and supply base in 2018, due to ongoing violations. The RSPO recently reinstated FGV's certification based on action plans produced by FGV, but there is no publicly available information to demonstrate FGV has sufficiently and credibly addressed forced labor on its plantations.
New research published this year shows that these abuses extend far beyond the plantations investigated by RPSO and other organizations. The work describes a system of violent debt bondage and human trafficking, where traffickers lure migrant workers from countries like Indonesia and the Philippines to FGV plantations in the Malaysian state of Sabah with promises of good jobs. Once trafficked to Sabah, the migrants were informed their wages will be withheld until they pay off the cost of their transportation, leaving them to subsist on credit from the company which only adds to their debts. Workers who objected were met with violence.
Procter & Gamble is not alone, companies such as Bunge Loders Croklaan, Clasen Quality Chocolate and B&H Distribution have been importing FGV palm oil products directly into the United States from Malaysia, despite almost half a decade of international outcry. A large number of additional companies also report to source palm oil from FELDA/FGV plantations, including major palm oil traders Cargill, ADM, AAK, Louis Dreyfus Company, and Sime Darby as well as major consumer goods companies Colgate-Palmolive, Ferrero, Johnson & Johnson, Kellogg's, L'oreal, Mars, Mondelez, Nestle, PepsiCo, and Reckitt Benkiser. 
"Global brands are well aware of the widespread labor violations in the palm oil industry, including FGV's particularly egregious history of forced labor abuses, and yet few have taken any meaningful action to address the issues," said Robin Averbeck, Agribusiness Director at Rainforest Action Network. "It is years past time for these companies to publicly cut ties with FGV until it addresses forced labor and other labor abuses on its plantations."