Andy Hall ordered to pay more than $320,000 in civil damages to Natural Fruit Co.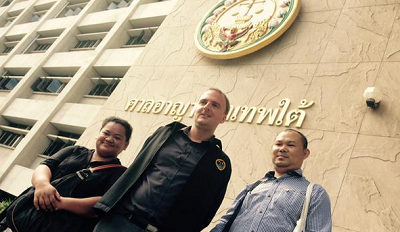 The International Labor Rights Forum (ILRF) condemns in the strongest possible terms a ruling today by the Prakanong Court in Bangkok, Thailand, ordering Andy Hall to pay 10 million baht ($321,000) in civil damages to the pineapple company Natural Fruit Co Ltd. The case relates to an interview Andy Hall gave to Al-Jazeera English in Myanmar in April 2013. The court also ordered Hall to pay 10,000 baht ($321) for the plaintiff's legal fees and court fees, including interest of 7.5% from the date the case was filed until the amount is fully paid.
"This verdict is the latest demonstration that despite the Royal Thai Government's stated intentions to reduce migrant workers' vulnerability to exploitation, the Thai judicial system is being used to stifle the ability of workers and their advocates to report abuse," said Judy Gerhart, ILRF executive director. "State and business actors are working together to send a clear message to migrant workers that speaking out about abuses will come at a high cost. This disappointing outcome also shows that Thailand is failing to live up to its commitments to protect human rights defenders under the International Covenant on Civil and Political Rights."
The Prakanong Court had already dismissed this civil case once, citing its lack of jurisdiction to legally try the case since Hall was in Myanmar when the allegedly defamatory comments were made. However, following an appeal by Natural Fruit, the Appeals Court in August 2017 ordered the Prakanong Court to accept jurisdiction and hear the case in full.
The verdict is the latest in a nearly five-year legal battle between Natural Fruit and Andy Hall. In 2013, Finnwatch, a Finnish non-governmental organization published a report exposing violence against workers, child labor, forced overtime and the confiscation of passports at a Natural Fruit factory. Hall conducted some of the research and was interviewed by media covering the report. Natural Fruit filed two cases against Andy Hall under criminal defamation provisions in Thailand's Criminal Code, one of which also included allegations under the Computer Crimes Act, as well as two civil defamation cases. Globally, labor organizations, industry actors, governments, and the United Nations Office of the High Commission for Human Rights have all condemned these cases as an attempt to silence a human rights defender and called for charges to be dropped.
A full explanation of the cases against Andy Hall is available on the Finnwatch website. Hall also faces criminal defamation, along with 14 migrant workers, for the documentation and reporting of abuses at a poultry farm owned by Thammakaset Co. Ltd., in another case that has drawn widespread international condemnation.