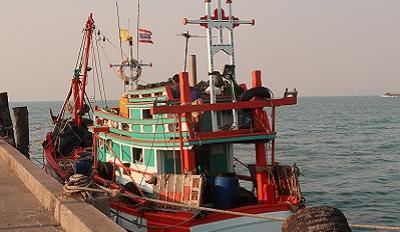 On December 29, Thailand voted to ratify the International Labour Organization Convention on Work in Fishing (No. 188), a point that the International Labor Rights Form has campaigned for following the ILO's adoption of the Convention in 2007. Thailand is the first Asian country to ratify the Convention. This Convention sets the bar that working conditions on Thai fishing vessels must meet and is an important step towards eliminating labor abuses in the supply chains of international brands sourcing seafood from Thailand.
The Thai Seafood Working Group, which ILRF coordinates, has made advocating for Thailand's ratification of C188 a top priority in 2018, so this is a welcome development. There is still much work to be done, however, to protect the rights of workers, especially migrant workers, in Thailand. The country has yet to ratify the ILO Convention on Freedom of Association and Protection of the Right to Organise (No. 87) and the ILO Convention on the Right to Organise and Collective Bargaining (No. 98), both of which are essential to protecting the rights of not only fishers, but all workers in Thailand.
"For real change to happen for workers, Thailand must allow migrant workers to form their own independent and democratic trade unions," said Judy Gearhart, Executive Director of the International Labor Rights Forum. "Until ILO C87 and C98 are ratified and all three Conventions are fully integrated into national law and enforced, workers will remain in conditions where they are vulnerable to various forms of abuse, including forced labor."
On November 29, representatives from the Royal Thai Government testified at the U.S. Trade Representative's Generalized System of Preferences country practice hearing. Both in their pre-hearing statement and in yesterday's testimony, the Thai government claimed that in public consultations considering changes to Thailand's Labour Relations Act, "all parties disagree[d] to allow the employees without Thai nationality [to form] a labour union."
The Thai Government stakeholder consultations largely did not include the views of the human rights groups, labor rights organizations, and unions, which have been calling for reforms. Therefore, to claim that 'all parties' did not support migrant workers' rights to form unions is disingenuous and misleading. This misrepresentation further confirms the Thai government's systematic efforts to suppress the rights of migrant workers, who make up 90% of the fishing industry's workforce. 
The Thai government's ratification of ILO C188 is a welcome step forward, however, the efforts to improve working conditions in Thailand cannot stop here. Businesses must continue to push Thailand to meet international standards to respect workers' rights to freedom of association and collective bargaining, and to mitigate the risks of forced labor, child labor, and human trafficking occurring in their global supply chains. Allowing migrant workers to form unions and ratifying ILO C87 and C98 must be Thailand's next steps in addressing the concerns that have been raised internationally.