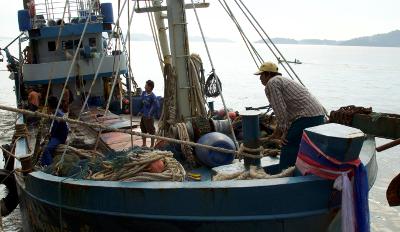 Products on U.S. grocery shelves, such as frozen shrimp and canned tuna, have been linked to labor trafficking and child labor.
Thousands of migrant workers cross the border into Thailand each year from neighboring countries, with the greatest numbers coming from Myanmar. An estimated three to four million migrant workers live in Thailand, many of them not registered officially to work. These workers are employed in labor-intensive export industries such as fishing, manufacturing, food processing and agriculture. Media investigations and research over nearly a decade have uncovered human trafficking, child labor, debt bondage, and other egregious forms of labor rights abuses throughout the Thai seafood industry. 
Labor registration is complex and leaves migrant workers dependent on recruiters and employers and vulnerable to extortion. Indicators of forced labor are common, including document retention, restriction of movement, debt bondage, withholding of wages and excessive overtime. Local police sometimes overlook abuse, and have even been implicated in trafficking schemes. Discriminatory labor law prevents migrant workers from forming labor unions, leaving them without a voice in the workplace, unable to influence the laws and policies that impact them, and with little access to remedy when employers violate labor laws.
The Thai seafood industry, in particular, has had serious concerns with labor trafficking, child labor, and debt bondage, among other abuses. The International Labor Organization has estimated that nearly 400,000 people are employed in the seafood industry in Thailand, on fishing vessels and in processing facilities, and the majority are foreign migrant workers. Fishing vessels pose the biggest risk to migrant workers. An ILO study released in 2020 found that 14 percent of fishers interviewed and 7 percent of seafood processing workers interviewed were in situations of forced labor.  
In response to the international pressure, Thailand has undertaken a series of significant reforms to improve oversight of its fisheries sector and to address widespread abuse and exploitation of migrant labor. Thailand was the first country in Asia to ratify the Protocol of 2014 to the Forced Labour Convention,1930 and the International Labour Organization (ILO) Convention on Work in Fishing No. 188. In 2019, Thailand became the first country in Asia to adopt a National Action plan on Business and Human Rights. The government has made attempts to crack down on illegally operating vessels and increase inspections to ensure all vessels are legally registered and abiding by the law. However, these changes have failed to change the fundamental power imbalance between migrant workers and their employers or to substantively change the reality on the ground for migrant workers, who are still vulnerable to trafficking.
National governments throughout the Asia-Pacific face similar types of human rights abuses against migrant fishers.  In Taiwan, the fishing sector is also powered by Southeast Asian migrant workers, mainly from Indonesia and the Philippines. Taiwan has one of the largest distant water fishing fleets, with over 1,800 vessels flying the Taiwanese flag operating across all of the world's oceans and hundreds of Taiwanese-owned vessels flying other flags. Taiwan is home to Fong Chun Formosa Fishery Company, Ltd. (FCF), which has been ranked as one of the top three tuna traders in the world and recently purchased canned tuna company Bumble Bee. In recent years, investigations have revealed shocking cases of human rights abuses in fisheries, including forced labor and human trafficking. Similar to Thailand, migrant fishermen in Taiwan face high recruitment fees and wages deductions, creating a bonded labor workforce where individuals are deterred from leaving. They sleep in squalid conditions onboard vessels and do not have access to sufficient food or clean water, even when at port.
 In addition to Thailand and Taiwan, nine other countries in Asia are among the world's top 25 major seafood producing countries, including China, Indonesia, India, Vietnam, Japan, the Philippines, Malaysia, the Republic of Korea and Myanmar.