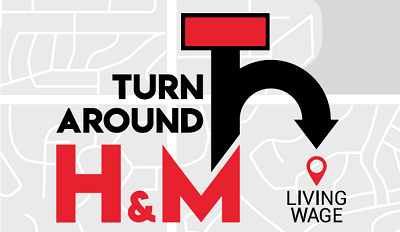 The H&M group is one of the world's largest retailers with 4,801 shops1 worldwide. In November 2013, H&M announced that all "H&M's strategic suppliers should have pay structures in place to pay a fair living wage by 2018. By then, this will reach around 850 000 textile workers." At the time, those workers made 60% of H&M's products, sourced from 'strategic and preferred suppliers' which H&M grades as gold or platinum.
With H&M's deadline nearing, Clean Clothes Campaign set out to check what workers were making in some of those supplier factories, and how close that was to
a living wage. In our understanding, a living wage should be earned in a standard working week and allow the garment worker and her/his family to cover basic needs: food to meet nutritional needs, housing, healthcare, clothing, transportation and education, plus 10% discretionary income for savings, or protection in case of the unexpected. 
Our researchers spoke with 62 workers in Bulgaria, Turkey, India and Cambodia. This document highlights their key findings as well as some additional facts that shed light on H&M's supply chain and the brand's progress in implementing its commitments.