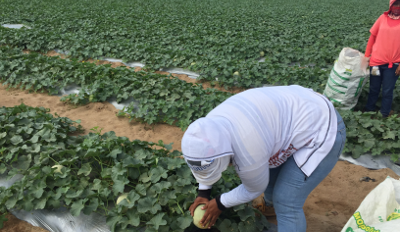 Thousands of miles away from U.S. supermarket shelves, the melon workers of southern Honduras are standing up to a global fruit giant that has long used their labor but never respected their rights.
Fyffes is the billion-dollar fruit company that most Americans have never heard of. They are the top importer of melons to the United States, which are sold in supermarkets across the country. They are also the number one supplier of bananas into Europe.
For more than a decade, Honduran workers have reported rampant wage theft, inhumane working conditions, and exposure to toxic agrochemicals on Fyffes' melon farms.
Fyffes employs over 6,500 melon workers in Honduras, the majority of whom are women in seasonal jobs. In 2016, these workers decided to address their longstanding issues by organizing a union with El Sindicato de Trabajadores de la Agroindustria y Similares (STAS). In response, local bosses fired and blacklisted dozens of outspoken union leaders and launched a violent union-busting campaign – physically, verbally, and psychologically harassing union members.
The violence peaked in April 2017 when unknown assailants attacked Moisés Sánchez, the STAS union local's Secretary-General, and his brother Misael. They sliced Misael's face with a machete and beat Moisés, threatening to murder him if he continued in the union. The Sánchez brothers survived the attack, but the crime remains unpunished, sending an undeniable message to every worker who has seen their colleagues persecuted for speaking out.
During the 2019-2020 growing season, workers at Fyffes' farms in Honduras continue to report blatant violations of their legally-guaranteed rights, including the dangerous misuse of toxic pesticides, denial of sick leave, the company's failure to enroll its seasonal workers in the national healthcare and pension system, and coercion to force them to leave STAS and join a company-controlled union that was founded by management, in order to destroy genuine worker organizing.
This report reviews the history of Fyffes' labor violations in Honduras, the ongoing abuses, and the response from Fyffes, which includes silencing workers' lived experiences by deploying futile corporate social responsibility programs that distract supermarkets and consumers from the reality on the farms. Until Fyffes acknowledges its history of worker exploitation in Honduras and takes responsibility to remedy the injustices – specifically by negotiating in good faith with STAS to sign a legally-binding and enforceable agreement to uphold workers' rights – thousands of farmworkers will continue to experience exploitation in the fields.