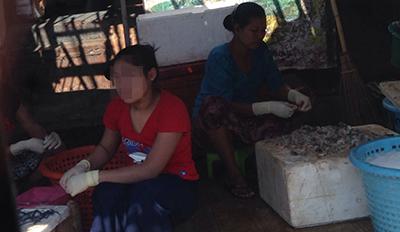 A global coalition of human rights organizations and labor groups has issued a letter to US Secretary of State John Kerry calling on the US Department of State to downgrade Thailand to Tier 3 in the 2014 Global Trafficking in Persons (TIP) Report because it is not meeting minimum standards to combat human trafficking, particularly among migrant workers and Rohingya Muslim refugees. Tier 3 in the TIP Report indicates that a government is not making significant efforts to combat human trafficking and opens up the possibility of sanctions.
In the 2013 report, Thailand was ranked just above Tier 3, on the Tier 2 Watch List, because of the Thai Government's failure to "adequately regulate brokers, reduce the high costs associated with registration, or allow registered migrants to change employers." The 2013 TIP Report review of Thailand also cited "pervasive trafficking-related corruption and weak interagency coordination" that "continued to impede progress in combating trafficking" in its assessment of the Government's efforts to combat human trafficking. The letter provided examples of how the Thai Government has failed to address these issues in the course of the last year, and argued that Thai officials continue to be at best complacent, at worst complicit, in the trafficking of migrant workers from neighboring countries to provide inexpensive labor for export industries.
The letter cited four areas in which Thailand urgently needs to take action to prevent human trafficking and assist victims:
•
Improving victim identification and protection
: The Thai Government reports identifying significantly more Thai nationals as victims of trafficking than other nationalities, though research indicates migrants are more likely to be trafficking victims. 
•
Fighting corruption
: Instances of gross abuse by government officials against migrant workers continue to be common and in some cases, Thai officials have been implicated in efforts to facilitate human trafficking.
•
Reforming immigration policies
: A complicated, expensive registration process that requires nationality verification and lack of a refugee law leaves stateless people (mostly Rohingya from Burma), migrant workers, and refugees vulnerable to abuses by labor brokers and recruiters.
•
Revising labor laws
: Migrant workers are forbidden from forming or serving in the leadership of labor unions, and work permits restrict a worker's ability to change employers, leaving workers isolated and dependent on their employers with little access to remedy in case of abuse.
A PDF of the complete letter can be downloaded below.