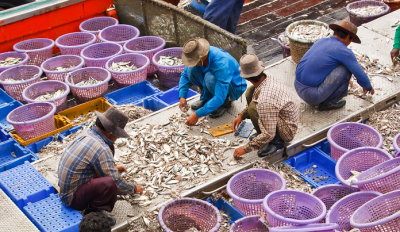 28 organizations released a statement critiquing the latest global fisheries standard and highlighting the failures of social certifications to address labor abuses in supply chains. 
The Seafood Working Group cautions retailers and global buyers of seafood that the Fairness, Integrity, Safety and Health (FISH) Standard for Crew will not serve as a legitimate or effective mechanism for the identification of labor abuse on fishing vessels in seafood supply chains. 
Significant weaknesses in the design, application and monitoring of the FISH Standard mean it will not provide buyers with credible assurances that the fishers who produce their seafood are treated fairly or have safe and decent conditions of work.  As described in the statement in detail, this is due to several shortcomings, particularly: 
No meaningful role for workers and/or their representatives 

An ineffective mechanism for identifying labor abuse on fishing vessels (i.e. an audit)

No commitment to remediate workers

No chain of custody mechanism

Selective application of international standards

Default to national legal frameworks that may be weaker than international standards

Failure to recognize power imbalance between employers and fishers

Conflict of interest at multiple levels that undermine rigorous application of the Standard 
The FISH Standard joins other fisheries certifications developed by the private sector which have undermined international norms for fishers and will collectively fail to improve working conditions at sea. Despite making claims that certifications cover entire product categories with best practice or best available science, they do not support adherence to established international standards nor do they challenge failing industry cultures that underpin widespread and egregious abuse of fishers. Now is the time for change.
Recommendations 
The Seafood Working Group recommends brands, retailers and other actors involved in designing social responsibility initiatives abide by the following:
Genuine worker representation

:

Workers, and their unions or other democratic, representative worker organizations, must be involved in all stages of design, training, implementation and governance of social responsibility projects to improve their wages and working conditions.

Comprehensive and transparent risk assessment and verification of workplace compliance through mandatory Human Rights Due Diligence (mHRDD)

:

In accordance with the UN Guiding Principles on Business and Human Rights, brands and retailers have a responsibility to cascade mHRDD requirements throughout their supply chains, down to fishing vessel level, to ensure that each supply chain actor is regularly conducting due diligence with their upstream suppliers and remediates any labor violations in a timely manner. All social responsibility initiatives that seek to provide credible assurances of decent work should include mandatory human rights due diligence for all participating entities as a first step in any process of accreditation. Effective human rights due diligence initiatives must include rigorous workplace inspections that are effectively independent of brand and retailer influence; public disclosure of names and locations of participating companies; and transparent tracking of human rights performance in the public domain. 

Legally-binding and enforceable agreements:

Respect for labor rights in corporate supply chains cannot be optional or voluntary. Workers need these rights in legally-binding agreements and a mechanism for holding employers and others in the supply chain accountable. These legally-binding agreements should clearly articulate the rights and responsibilities of each party and dispute resolution procedure, as well as provisions that guarantee an effective grievance mechanism, and zero tolerance for reprisals.

Changes to brand purchasing practices to end systemic labor abuses

:

Brand respect for the human rights of workers in their supply chains requires a change in purchasing practices that incentivizes and enables suppliers to comply with human rights norms and brand requirements. Buyers must analyze, address and make changes to their purchasing practices so that they do not contribute to human rights violations, but instead actively support and incentivize suppliers in remediating them.

Respect for freedom of association and collective bargaining rights:

In accordance with ILO core labor standards, brands and retailers must ensure their suppliers promote and respect workers' fundamental rights to freedom of association and collective bargaining without fear of retaliation.
The Seafood Working Group (SWG) is a global coalition of human rights, labor and environmental organizations that work together to develop and advocate for effective government policies and industry actions to end forced labor in the international seafood trade.
Photo credit: Sura Nualpradid