The COVID-19 pandemic is exposing the grossly unequal power relations that define global garment supply chains, with workers paying the price. Today the many organizations behind the world-wide Clean Clothes Campaign network are calling for action from brands and retailers -- as well as governments and other stakeholders -- that aims to mitigate the impact of this crisis on those already most exploited in supply chains and to build towards a future in which workers have access to living wages and a social safety net.
The past few weeks have exposed the implications of near-absolute brand and retailer power in garment supply chains. As soon as the pandemic hit the world's major garment companies, they responded with their customary reflex, by pushing risk and costs down the supply chain. This has left many factories without the financial means to pay workers their wages, even for work already done. Millions of workers are now without income and job security, at a time of already extreme anxiety about health risks.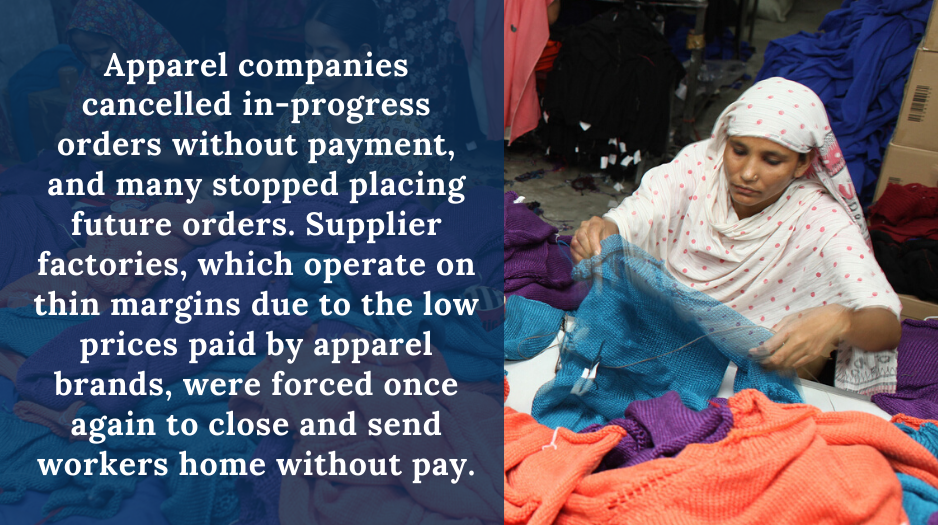 "Brands must make good on the contracts that they have with the factories," said Juan Eguigure from the SITRADAHSA union in Honduras: "Without these payments, our employers cannot pay us the money that we are owed. This is our livelihood and without it we will not be able to care for our families."
"The Covid-19 pandemic has revealed that corporate social responsibility exists only as a way for companies to clean up their inappropriate behaviour. Now more than ever, workers need economic solidarity from their employers," said Evangelina Argueta from CGT union in Honduras, adding: "For many years, workers have been generating wealth for the brands."
Now is the time for brands, retailers, and e-tailers to stop taking advantage of suppliers and workers and start paying back for the years of profits made on the basis of poverty wages, little-to-no social security, and the accumulation of risk at the bottom of the supply chain. To act responsibly at the time of the COVID-19 pandemic, brands, retailers, and e-tailers need to:
Honour their obligations to suppliers and workers by paying for orders that are completed or in production;
Ensure and enable payment of wages or severance to all apparel, textile, footwear, and logistics workers who were employed at the onset of the crisis;
Ensure that workers who work during the pandemic can follow World Health Organization protection standards and are provided with additional labour protection including childcare facilities or allowances, health insurance, paid sick days, and hazard pay; and
Ensure that workers can refuse unsafe work and workers who are ill, or whose family members are ill, can stay at home without being penalized.
"The absolute minimum that brands and retailers must do during this crisis is to pay for work already commissioned. When the practice of most brands to cancel orders was criticized, several major apparel companies back-tracked their decision, to the relief of factory owners," said Liana Foxvog of the International Labor Rights Forum. "However, several major players in the field, including C&A, Gap, Nike, and Uniqlo, continue to stand by their decision not to pay for work already in process or completed, or have turned to insufficient alternatives, such as Primark's proposal for a fund to pay for the worker wage portion of its cancelled orders."
To alleviate the plight of the workers whose livelihoods are threatened by this crisis, it is necessary to create emergency relief funds and financial support packages specifically for the garment sector, with contributions from International Financial Institutions, donor governments, as well as brands and retailers. Such funds should be established as soon as possible to enable payments for sufficient income to be delivered as rapidly as possible via the most efficient mechanisms available in each country. Wherever possible, this should be done by supporting the capacity of employers to maintain workers' employment and wages.
While this crisis is caused by disruptions in the demand, purchasing decisions, and supply lines of the garment industry, it is exacerbated by the lack of social protection in the majority of garment producing countries. Governments in garment producing countries must immediately commit to establish and improve national social security schemes to make them consistent with ILO standards including for unemployment, employment injury, and health insurance. This should be done in cooperation with manufacturers and with contributions from brands through transparent and traceable cost-sharing mechanisms.
Ineke Zeldenrust of the Clean Clothes Campaign International Office, said: "This crisis is the worst wake-up call imaginable to show that the total absence of social security as a concept in current supply chains is not sustainable. If supply chains start functioning again, they must start to operate with a radically changed pricing model that allows for the payment of living wages, social benefits, and worker safety."
Governments where brands and retailers are headquartered should reform commercial law regulating unfair commercial and trade practices that lead to human rights abuses in their global supply chains and legally oblige companies to respect human rights in their operations and supply chains, holding companies accountable in court if they fail to do their human rights due diligence. This is the time to ensure that the unequal and abusive supply chain relations of the past remain in the past.
"People will remember when this crisis is over which brands stepped up to protect their workers and employees and which did not," said Dominique Muller of Labour Behind the Label: "Let us start how we mean to go on: in a fairer and more responsible manner."