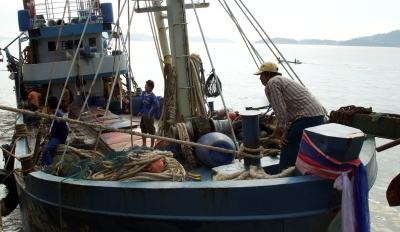 The Seafood Working Group recommends that the U.S. State Department downgrade Thailand to Tier 2 Watch List in its forthcoming Trafficking in Persons Report 2020. The International Labor Rights Forum facilitates the Seafood Working Group, an internationally recognized coalition of over 60 human rights, labor, and environmental organizations that work together to advocate for effective government policies and industry actions to end worker exploitation in the seafood sector.
The Seafood Working Group presented this recommendation in a 32-page report that compiles 23 cases of labor abuse from organizations who work directly with migrant workers in a range of labor sectors throughout Thailand. "The information we obtained indicates that migrant workers remain highly vulnerable to human trafficking.  The Thai government must do more to adequately protect victims and prosecute offenders," said Esmeralda López, ILRF's Legal and Policy Director.
The report highlights the government's failure to make sufficient progress in key areas, particularly in the identification and prosecution of forced labor and in undertaking effective labor inspections. The government has not effectively addressed some of the root causes that make migrant workers vulnerable to human trafficking: widespread debt and document retention practices and obstacles to workers changing employers.
Thailand's ranking in the TIP report has steadily increased since 2015, when the government initiated significant reforms following exposés of illegal, unreported, and unregulated (IUU) fishing practices and labor abuse on vessels. In January 2019, the government ratified ILO Convention 188 on Work in Fishing – the first to do so in Asia and a welcome step towards legal reform to protect fishers. Yet, as the Seafood Working Group report shows, labor abuse and exploitation of migrant fishers is ongoing and widespread. In two cases, one including a child, workers jumped off boats into the sea or out of windows to escape their traffickers.  
The Seafood Working Group's report highlights a clear pattern of abuse of migrant workers in other sectors too. In a special economic zone with nearly 45,000 migrant workers, several cases illustrate how workers in the apparel industry are registered under a precarious legal status that denies them labor protection, are rarely paid minimum wage, and are intimidated by employers when they try to negotiate for better working conditions.
The report describes how the Thai government has failed to fulfill previous commitments to ratify ILO conventions on freedom of association and collective bargaining and continues to restrict foreign workers from organizing and forming unions. "The Thai government has said it will make the necessary legal reforms. But currently the migrant workers who power Thai export production do not have the legal right to organize and bargain collectively, and they remain afraid to speak out.  It's impossible to stop human trafficking in such a context," said Ms. López.