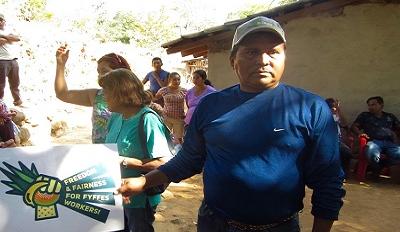 ILRF condemns the recent brutal attack against Moisés Sanchez, Secretary General of the Honduran agricultural union STAS, for organizing workers to seek better working conditions and basic labor rights on Fyffes' melon plantations in Choluteca, Honduras.
On April 13, 2017, Moisés and his brother Misael were returning home from a union meeting when they were intercepted by four armed men. Misael was seriously wounded in the face with a machete after trying to free his brother from the assailants.
As two other men stood guard 60 yards away, Moisés was robbed, beaten, threatened and held captive for 40 minutes. The men searched his phone looking for information.
Moisés told the International Union of Food Workers (IUF), "They knew exactly who I was. They knew I was in charge of the organizing movement on the plantations and if I continued my union work, I would face the consequences."
The message was clear: stop organizing.
"This horrific attack is just the latest assault on the rights of STAS to organize melon workers for decent wages and working conditions," said Judy Gearhart, Executive Director of the International Labor Rights Forum (ILRF).
This attack sent chills through the neighborhoods of La Permuta and Chaguitës, two communities that ILRF visited on a recent fact-finding trip with an international delegation of unions and NGOs. The seasonal melon workers on the Fyffes melon plantations, 80% of them women, face egregious labor rights violations including exposure to hazardous agrochemicals, blacklisting of entire communities, illegally firing women when management becomes aware of their pregnancies, not paying into the social security system and many more human rights abuses.
ILRF and 28 other European organizations are a part of an ongoing solidarity campaign called Freedom and Fairness for Fyffes Workers which denounces the human rights abuses on the plantations. The campaign is asking Fyffes to end discrimination by local plantation management against union members and engage in a collective bargaining agreement to secure a remedy for its abused workers.
Moisés Sánchez stated, "We need all the support we can get, both at a national and international level. The lives of so many workers who have decided to organize to defend their rights on the melon plantations depends on it."
"There is a lot of worry but we stand firm. We will not be intimidated."
STAS is all too familiar with threats like these. In August and September of 2016, Patricia Reira and Nelson Nuñez were followed, harassed and threatened repeatedly for their efforts to organize on Fyffes' Honduran melon plantations. Patricia was forced to leave the country to ensure her safety.
Fyffes is the leading supplier of honeydew melons into the U.S. market, supplying major retailers like Aldi, Giant, Safeway, Walmart, and others. 
"U.S. consumers deserve fresh produce that is free from worker exploitation.  Fyffes needs to take responsibility and sit down with workers and unions to ensure that their melons are not associated with such egregious worker abuses," Gearhart added.