Sustainability certificate suspended over 10 legal offenses, "grave and methodical" breaches after complaint brought by Rainforest Action Network, International Labor Rights Forum, and OPPUK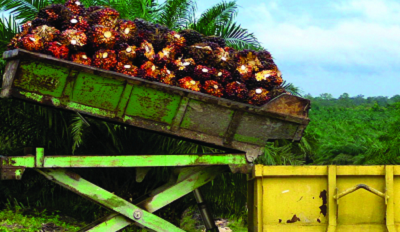 Indonesian palm oil giant Indofood has been sanctioned by the world's largest palm oil certification scheme, the Roundtable on Sustainable Palm Oil (RSPO) reported. The RSPO found over twenty violations of the RSPO's Principles and Criteria, as well as 10 violations of Indonesian labor law, on the Indofood facilities audited.
The investigation was sparked by a complaint against the company, brought by Rainforest Action Network (RAN), International Labor Rights Forum (ILRF) and Indonesian labor rights organization OPPUK, after serious labor rights abuses were documented on Indofood-owned plantations. A string of independent reports over the past several years revealed that Indofood, one of the largest private palm oil companies in Indonesia, has violated RSPO standards, national and international norms and laws, and engaged in exploitative labor practices –– including cases of child labor, unpaid workers, precarious employment and toxic working conditions.
In its own investigation of the RSPO-certified unit, which includes one palm oil mill and three palm oil estates, the RSPO said that the "grave and methodical nature of the breaches" required immediate suspension of its sustainability certificate. What's more, the RSPO called for a full audit of all other RSPO-certified units of Indofood's palm oil subsidiary within three months, and will require oversight of those audits as well.
"Indofood is one of the worst companies and to continue to certify it as 'sustainable' drags down the reputation of the entire palm oil industry and the RSPO with it," said Herwin Nasution, Executive Director of OPPUK. "As a first step toward justice for workers, Indofood must remedy the years-long labor abuses, now many times confirmed, and the RSPO must hold them to account."
Many palm oil buyers have already cut ties with Indofood prior to this sanction, including Nestle, Musim Mas, Cargill, Fuji Oil, Hershey's, Kellogg's, General Mills, Unilever, and Mars.
"This must be the last straw for all companies and banks still doing business with Indofood. They must cut ties with this company immediately. Otherwise, they knowingly continue to do business with a company engaging in illegal and unethical behavior," said Robin Averbeck, Agribusiness Campaign Director for Rainforest Action Network (RAN). "This is particularly true for those companies holding joint venture partnerships with Indofood, including PepsiCo, Wilmar, and Yum! Brands. Indofood's investors and lenders –– particularly the Japanese banks Sumitomo Mitsui Financial Group, Mizuho Financial Group and the Mitsubishi UFJ Financial Group (MUFG) –– must also cancel all financing immediately."
"This should be a test case that the RSPO, buyers and financiers use to strengthen their policies and practices against labor exploitation," said Eric Gottwald, Deputy Director at International Labor Rights Forum (ILRF). "It took two years for the RSPO to deliver a decision while workers have continued to suffer violations of their basic rights. Workers who risk so much to report violations deserve a much faster and more effective complaints process."
RAN, ILRF and OPPUK have laid out clear requirements that Indofood must meet to address ongoing labor violations, including (1) immediately promoting all workers who perform core plantation work to permanent employment status; (2) paying a living wage and retroactively compensating workers for withheld wages, benefits, promotions and unremunerated work; (3) fully respecting workers' right to Freedom of Association and ensuring non-reprisal towards all workers; (4) guaranteeing women's rights by addressing the ongoing, egregious discrimination against female workers on Indofood's plantations; and (5) ensuring production targets are set fairly and transparently in consultation with workers, worker organizations and independent unions.
The three organizations also continue to call on Indofood to adopt and implement a comprehensive time-bound 'No Deforestation, No Peatland, and No Exploitation' policy that applies to Indofood, the entire Salim Group and all third-party suppliers.