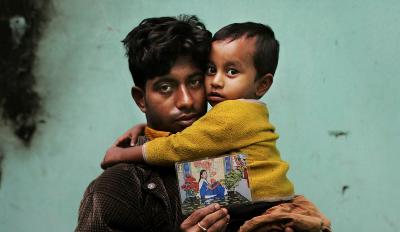 Clean Clothes Campaign and the International Labor Rights Forum are delighted to report that a scheme set up to provide compensation to people affected by the Tazreen Fashions fire of 2012 has now completed its work of providing loss of income payments to all injured workers and to the dependents of those who were killed.
The Tazreen Claims Administration Trust, which used a system for calculating and distributing awards based upon a similar initiative designed for those affected by the Rana Plaza building collapse, announced last Friday that the work to collect claims, carry out medical assessments, calculate amounts owed to each beneficiary, and distribute payments is now complete.
On November 24, 2012, a fire ripped through the Tazreen Fashions garment factory in Bangladesh, killing 113 workers and injuring nearly 200. Three years later, in September 2015, the Tazreen Claims Administration Trust was established as a result of an agreement signed in 2014 by C&A, C&A Foundation, IndustriALL Global Union, and the Clean Clothes Campaign. This agreement led to the establishment of the Tazreen Claims Administration Trust in October 2015.
In November 2015, $2.5 million was paid into a Fund set up to cover the cost of the awards by brands that sourced from Tazreen Fashions. The remainder of each award had already been provided through payments made in the immediate aftermath of the fire by the Bangladesh Prime Minister's Fund. C&A Foundation and Fung Foundation each contributed $1 million (Sean John's Enyce brand was represented by Li & Fung, which placed their orders). Smaller amounts were provided by Walmart (via BRAC USA), KiK and El Corte Ingles. Other brands whose clothing was made at Tazreen, including Dickies, Disney, Edinburgh Woollen Mill, Karl Rieker, Piazza Italia, Sears, Soffe (by Delta Apparel), and Teddy Smith, failed to contribute.
"It remains disappointing that most of the companies whose clothes were produced at Tazreen never acknowledged their responsibility and paid nothing at all into the Fund, and Walmart – whose stores the bulk of Tazreen's product was destined to – paid only $250,000," said Liana Foxvog of the International Labor Rights Forum.
The first claims were processed in October 2015, and the processing of applications and medical assessments was completed in April 2016. A period followed during which claimants were provided with advice and support in investing their payments, with 116 beneficiaries being supported to join a government bond scheme, known as shanchaipatra, which guarantees a high interest rate and a regular payment.
Claims process completed
By the end of June 2016 the majority of the Tazreen Claims Administration Trust's work was completed: in total they had paid out a total of BDT 167,463,882 ($2.17 million) to 582 family members of 103 deceased workers and 10 missing workers, and to 174 workers who continue to suffer injury as a result of the fire. These payments were in addition to initial payments made by the Prime Minister's Fund.
"We are pleased that the injured workers and families of the deceased have finally received these payments, which will keep them out of the most dire forms of poverty, although the payments are based on the very low wages common in the garment industry, and therefore remain relatively small," said Liana Foxvog of ILRF.
The remaining task is to ensure ongoing medical treatment for the workers who are still suffering physical and psychological injuries. $350,000 is due to be transferred to a separate Trust in Dhaka, which is in the process of being established, to provide treatment referral services to workers injured in both the Rana Plaza and Tazreen disasters. It is hoped that this new Trust will lay the groundwork for a permanent referral service to all workers suffering workplace injury.
Although the process of waiting has been long for these families, the completion of the claims process is an important victory. The Tazreen survivors have finally won recognition of their rights, after being overshadowed by the scale of the Rana Plaza disaster. The Tazreen claims process also establishes further both the possibility and the necessity of ensuring that victims of any future disasters are provided with loss of income payments and support in line with international norms and standards.
"The achievement of fair and transparent payments to the Tazreen workers is something to celebrate," said Samantha Maher of the Clean Clothes Campaign. "The campaigning undertaken by CCC, ILRF and other allies was vital in getting this outcome and proves that we can make progress when we stand together with workers fighting for justice. We also pay tribute to the work of the Bangladesh groups who supported this process, the amazing staff at the Tazreen Claims Trust – in particular to the Executive Commissioner, Dr Kazazi – and of course to the Tazreen workers, who refused to allow the deaths of their loved ones go unrecognised."
While the claims process has concluded, the struggle of the Tazreen families is far from over.  They are demanding that those responsible for the deaths and injury of their loved ones are held to account and they continue to wait for the prosecution of Delwar Hossain, the owner of Tazreen Fashions. We will continue to support them in their struggle until full justice is achieved.