84,000 Demand Freedom for Journalist Gaspar Matalaev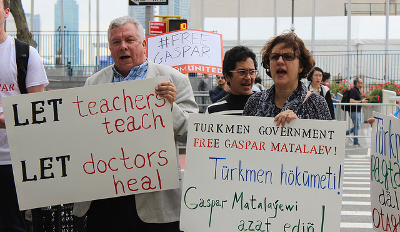 Protesters gathered outside the United Nations headquarters in New York today demanded an end to state-sponsored forced labor in Turkmenistan's cotton industry and presented a petition signed by over 84,000 people from around the world that urged the Turkmen government immediately release Gaspar Matalaev and allow him to continue his work safety. The demonstration was during Turkmen President Gurbanguly Berdimuhamedov's first visit to the United States in three years.
Gaspar Matalaev, a reporter with the Alternative Turkmenistan News (ATN) who had monitored and reported on the systematic use of forced adult and child labor in Turkmenistan during cotton harvesting, was arrested in October 2016, just two days after ATN published his extensive report on Turkmenistan's labor practices. While in detention, Matalaev has been tortured by electric shock and held incommunicado. Throughout the investigation and trial, he did not have access to effective legal representation or to key files, information, and documents. The United Nations Working Group on Arbitrary Detentions determined the arrest and deprivation of liberty of Gaspar Matalaev was "arbitrary."
Journalists and human rights defenders who attempt to document and report upon forced labor in Turkmenistan do so at great personal risk and frequently face intimidation, harassment, arrest, and/or imprisonment.
Each year the government of Turkmenistan forces tens of thousands of workers from both public and private sectors to either pick cotton during the harvest season or to pay a bribe to their supervisors to hire a replacement worker to pick cotton instead. This takes place under the threat of punishment, including public censure, loss of wages from their regular jobs, and termination of employment. The government treats refusal to contribute to the cotton harvest as insubordination, incitement to sabotage, and even "contempt of the homeland."
The demonstration held today is part of a campaign to stop forced labor of children and adults in Turkmenistan's cotton sector led by the Cotton Campaign, which is calling on the United Nations Secretary General António Guterres to demonstrate a strong commitment to stop forced labor in Turkmenistan's cotton sector and to demand the release of Gaspar Matalaev, as recommended by the United Nations Working Group on Arbitrary Detention.
In response to the campaign, leading retailers, including Adidas, Columbia Sportswear, Designworks, Gap Inc., H&M, Marks & Spencer, Nike, Rowlinson Knitwear, Royal Bermuda, Sears Holdings, Varner Retail, and VF Corporation signed the Responsible Sourcing Network's Turkmen Cotton Pledge, which commits companies to not source cotton from Turkmenistan until forced labor in its cotton sector has been eliminated.
In addition, 42 institutional investors, which manage $60 billion in assets, are encouraging global home goods and apparel brands and retailers to take action to address the grave human rights abuses in the cotton fields of Turkmenistan.
Representatives from the International Labor Rights Forum, Human Rights Watch, the Child Labor Coalition, Freedom United, the International Union of Food, Agricultural, Hotel, Restaurant, Catering, Tobacco and Allied Workers' Associations (IUF), Alternative Turkmenistan News and several local unions all joined in supporting the protest. Today's demonstration was led by the Cotton Campaign, a coalition of human rights, labor, investor, and business organizations dedicated to eradicating child labor and forced labor in cotton production.
"We are here today to protest Turkmenistan's use of systematic forced labor in their cotton industry. The government forces teachers, doctors, nurses, and government staff to leave their regular jobs to pick cotton during harvest season, which is happening now. On top of this, children are still being forced to participate in the Turkmenistan cotton industry," said Reid Maki, Coordinator of the Child Labor Coalition and Director of Child Labor Advocacy at the National Consumers League, which helped plan the action. "We came to show our solidarity and support for Gaspar Matalaev, a local reporter who exposed forced labor of children and adults in Turkmenistan's cotton fields, and has been imprisoned for this journalism by the government of Turkmenistan. We demand freedom for Gaspar!"
"State-sponsored forced labor will continue in Turkmenistan as long as international brands continue to support it," said Ruslan Myatiev, editor of Alternative Turkmenistan News. "The Turkmen government reaps huge profits off this trade at the expense of Turkmen children and adults, who are forced to harvest cotton each year at considerable risk. We strongly encourage all apparel and textile brands to sign the pledge to not knowingly source Turkmen cotton until the Government of Turkmenistan ends the practice of forced labor in its cotton sector."