September 3, 2015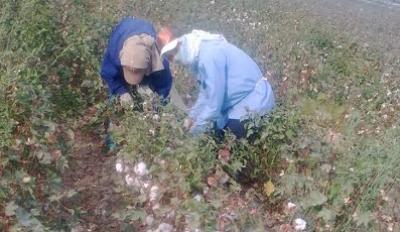 Every year for their entire history, the governments of Uzbekistan and Turkmenistan have systematically coerced their own citizens to cultivate and pick cotton, with the profits benefiting the government elite rather than the people. To harvest cotton last year, the Uzbek government forced over a million citizens to the fields, and the Turkmen government forced tens of thousands. Since neither government has changed its cotton production system it is inevitable that government-orchestrated forced labor will continue this harvest season, in violation of national and international law. In Uzbekistan and Turkmenistan, the world's fifth and seventh-largest cotton exporters, the annual harvests began this week. Here are five key issues to monitor:
1. Will the Uzbek and Turkmen governments uphold laws prohibiting forced labor?
After committing in an agreement with the ILO to eradicate forced labor in April 2014, the Uzbek government forcibly mobilized more adults to harvest cotton than ever last fall, apparently to compensate for fewer children being sent to the fields. The welcome reduction in forced child labor in 2014 demonstrated that the Uzbek government responds to international pressure and can end the forced labor system. Following its use of systematic forced labor to weed cotton fields in the first half of 2015, last month the Uzbek government reportedly committed to "promote voluntary recruitment and to prevent mobilization of teachers and healthcare workers for the cotton harvest." Uzbek civil society leaders and the Uzbek-German Forum for Human Rights will be monitoring the government's implementation of its stated plan and whether anyone is forced to grow or harvest cotton this year.
The Turkmen government has never responded to concerns raised by civil society and the ILO about its use of forced labor to produce cotton. In 2014, the government once again forcibly mobilized tens of thousands of citizens to work in the cotton fields, and it has signaled no change to its cotton production system in 2015. Turkmen civil society leaders and the Alternative Turkmenistan News will be monitoring the government's practices throughout the cotton harvest this year.
2. Will the Uzbek and Turkmen governments allow independent human rights organizations, activists and journalists to investigate and report on conditions in the cotton production sector without fear of reprisals?
Despite each government's efforts to silence them, human rights monitors in Uzbekistan and Turkmenistan have brought international attention to their governments' egregious practice of forced labor.
In Uzbekistan, police have assaulted human rights monitor Elena Urlaeva twice in three months, once in May for documenting forced labor in the cotton fields and again in August for distributing pamphlets explaining laws that prohibit forced labor. During this cotton harvest, Ms. Urlaeva and her fellow monitors' reporting will be vital to the success of the ILO's commitment to monitor and report on labor practices in World Bank project areas. The ILO and World Bank should both insist the Uzbek government allow monitoring by independent civil society without fear of reprisals, and ensure their own reporting accounts for information from independent monitors.
In Turkmenistan, last month police arrested and continue to detain journalist Saparmamed Nepeskuliev without stated charges and without access to independent legal counsel or his family. The Turkmen government's unlawful detention of Mr. Nepeskuliev risks intimidating other independent monitors into silence. The European Union, United States government and other bilateral partners of Turkmenistan should immediately call for his urgent and unconditional release and for the Turkmen government to respect freedoms of expression and press.
3. Will the World Bank suspend its loans to the Uzbek government if there is forced labor in Bank project areas?
The World Bank committed in its project loans for the agriculture and education sectors to suspend financing if there is forced labor in the project areas, following a complaint filed by victims of forced labor in Uzbekistan. To avoid suspension, the World Bank must press the government of Uzbekistan to reform its policies that drive forced labor, including with immediate steps such as increasing cotton procurement prices, eliminating penalties against farmers who do not fulfill production quotas, and reporting cotton income in national budgets.
4. Will Daewoo International, General Motors, Teliasonera, Telenor and other multinational companies operating in Uzbekistan stop contributing to and benefitting from forced labor?
Daewoo International, the largest processor of cotton in Uzbekistan, has repeatedly admitted it uses forced labor cotton in its operations in Uzbekistan. For three years in a row, GM Uzbekistan workers have reported that their company has sent them to the cotton harvest. In 2014, Teliasonera and Telenor reported that their companies sponsored the cotton harvest in Uzbekistan. To avoid perpetuating the Uzbek government's forced labor system of cotton production and exposure to liability for involvement in it, companies operating in Uzbekistan should sign the Commitment Against Forced Labor in Uzbekistan, establish an independent human rights monitoring and public reporting program of the company's operations and supply chain in Uzbekistan, and divest from Uzbekistan if involvement in the forced labor system persists as a requirement to operate in the country.
5. Will H&M, Inditex and other global apparel companies urge the Turkmen government to stop its use of forced labor?
H&M and Inditex have acknowledged that they purchased apparel from Turkmenbashy, a manufacturer majority owned by the Turkmen government that uses forced labor cotton. The Turkmen government's use of forced labor surprised many apparel companies notified by the Cotton Campaign, despite Turkmenistan's ranking as the 7th-largest cotton exporter worldwide. As a first step to avoid forced labor cotton from Turkmenistan from tainting their brands, global apparel companies should to join together and publicly call on the Turkmen government to end forced labor in its cotton sector.
The Cotton Campaign is a global coalition of human rights, labor, investor and business organizations dedicated to eradicating child labor and forced labor in cotton production.
For reporting on forced labor in Uzbekistan and Turkmenistan, visit: www.cottoncampaign.org