September 5, 2023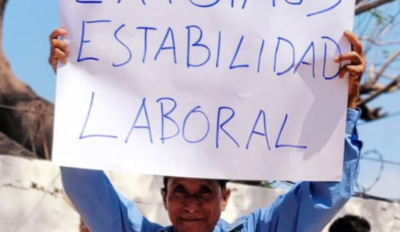 Blatantly disregarding national laws and international labor standards safeguarding workers' right to organize, Japanese-owned billion-dollar multinational fruit company Fyffes has terminated all permanent worker-members of the independent farmworker union and IUF affiliate, El Sindicato de Trabajadores de la Agroindustria y Similares (STAS). The action appears to be a direct response to workers' union involvement and is a clear escalation by the company in a long pattern of union-busting and violations of international labor standards, which made Fyffes an emblematic case in a complaint filed by Honduran unions and the AFL-CIO through the labor chapter of the Dominican Republic-Central America Free Trade Agreement (CAFTA-DR).
The 14 fired workers include the local STAS chapter General Secretary and three other union officers, as well as a whistle-blowing lab worker who informed a government minister earlier this year that the melon workers' water supply had been contaminated with E. coli. The fired union members were all permanent employees who worked in melon production, the company's lab, or security. The firing comes just a few months after over 500 people marched on the company and delivered a petition signed by over 1,000 seasonal workers demanding Fyffes sign an international labor rights agreement with the union. 
The IUF, together with GLJ-ILRF, joins STAS in condemning the firings and supporting the workers' call for reinstatement. Workers have filed cases against Fyffes with the Honduran Ministry of Labour, which has begun inspections and investigations. STAS and global allies are calling on the company to resolve and remedy the retaliation, including the following:
Fyffes must immediately reinstate the 14 permanent workers who were wrongfully fired

Fyffes must immediately cease all forms of anti-union retaliation against workers who exercise their fundamental labour rights

Fyffes must

resume negotiations

and sign the binding agreement to protect workers' labour rights
"Fyffes' firing of the permanent employees and STAS members, after they walked away from talks with the union, bears all the hallmarks of retaliatory anti-union action and is unacceptable," stated Tomas Membreño, Organizing Director of STAS and of the national labor federation FESTAGRO.
---
Fyffes arremete contra los y las trabajadoras del melón con despidos de represalia que desencadenan una investigación gubernamental
Haciendo flagrante caso omiso de las leyes nacionales y las normas laborales internacionales que salvaguardan el derecho de trabajadores y trabajadoras a organizarse, Fyffes, la multinacional frutícola multimillonaria de propiedad japonesa Fyffes ha dado de baja a todo el personal afiliado permanente del sindicato independiente de trabajadoras/es agrícolas y afiliado a la UITA, El Sindicato de Trabajadores de la Agroindustria y Similares (STAS). La acción parece ser una respuesta directa a la participación sindical de trabajadores y trabajadoras y es una clara escalada por parte de la empresa en un largo patrón de represión sindical y violaciones de las normas internacionales del trabajo que hicieron de Fyffes un caso emblemático en una denuncia presentada por los sindicatos hondureños y la AFL-CIO a través del capítulo laboral del Tratado de Libre Comercio República Dominicana-Centroamérica (CAFTA-DR).
Entre las 14 personas despedidas se encuentran el Secretario General de la sección local del STAS y otros tres dirigentes sindicales, así como una persona trabajadora de laboratorio que denunció a principios de año que el suministro de agua de las trabajadoras y trabajadores del melón estaba contaminado con E. coli. Los miembros del sindicato despedidos eran todas personas empleadas fijas que trabajaban en la producción de melón, el laboratorio de la empresa o la seguridad. El despido se produce pocos meses después de que más de 500 personas marcharan ante la empresa y entregaran una petición firmada por más de 1.000 temporeros en la que exigían que Fyffes firmara un acuerdo internacional sobre derechos laborales con el sindicato.
La UITA, junto con GLJ-ILRF, se une a STAS para condenar los despidos y apoyar el reclamo de las trabajadoras por su reincorporación. Asimismo han presentado demandas contra Fyffes ante el Ministerio de Trabajo de Honduras, que ha iniciado inspecciones e investigaciones. STAS y sus aliados globales están haciendo un llamamiento a la empresa para que resuelva y ponga remedio a las represalias. Se incluyen los siguientes pedidos:
Fyffes debe readmitir inmediatamente a las 14 personas trabajadoras fijas despedidas improcedentemente

Fyffes debe cesar inmediatamente toda forma de represalia antisindical contra las personas trabajadoras que ejercen sus derechos laborales fundamentales

Fyffes debe reanudar las negociaciones y firmar el acuerdo vinculante para proteger los derechos laborales de trabajadores y trabajadoras
"El despido por parte de Fyffes de los empleados fijos y miembros de STAS después de que abandonaran las conversaciones con el sindicato tiene todas las características de una acción antisindical de represalia y es inaceptable", declaró Tomás Membreño, Director de Organización de STAS y de la federación nacional de trabajadores FESTAGRO.