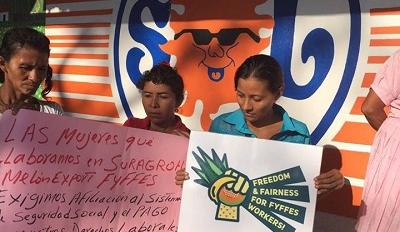 Following an open letter to Fair Trade USA signed by 25 human rights, labor rights, and faith-based organizations, Fair Trade USA has suspended Suragroh, a melon company in Honduras owned by Fyffes, one of the largest global fruit brands and the top importer of winter-season melons to the U.S. market.
The International Labor Rights Forum applauds the suspension and calls on Fair Trade USA to immediately de-certify Suragroh-Fyffes in light of the historic and ongoing human and labor rights violations on the melon plantations. Before certifying Suragroh as "fair trade," Fair Trade USA did not interview any of the key stakeholders involved in the pending labor complaints against the grower. Thus the Fair Trade USA auditors failed to follow procedures which require them to interview relevant stakeholders as part of the auditing and certification process.
Fyffes' refusal to recognize its workers' internationally-recognized right to join a democratically-elected union means that the company is in violation of Fair Trade USA's Agricultural Production Standard. Thus far, due to the labor rights violations and anti-union violence, Fyffes is named in the AFL-CIO's complaint under the US-Central America Free Trade Agreement and a complaint to the International Labour Organization. Recently, Fyffes was suspended from the Ethical Trading Initiative in May 2017.