Union members to be rehired next week; collective bargaining to commence in February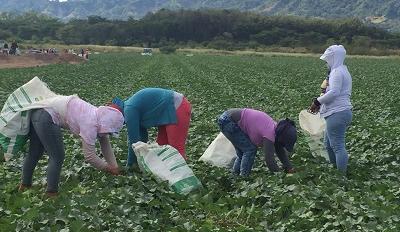 On January 11, Fyffes signed an agreement recognizing STAS – el Sindicato de Trabajadores de la Agroindustria y Similares – as the legitimate union representative of workers employed at Fyffes' melon subsidiaries in Honduras. Fyffes is an Irish multinational company owned by the Japanese conglomerate Sumitomo, and one of the largest fruit brands in the world and the top importer of winter-season melons to the U.S. market. The agreement states that collective bargaining negotiations with STAS will begin on February 5 and the company will rehire union members who have not been rehired this harvest season due to their union affiliation.
This agreement comes following a three-year global campaign urging Fyffes to remediate two decades of human and labor rights abuses on its Honduran melon plantations, including wage theft and exposure to toxic agrochemicals. When workers tried to form a union in 2016, Fyffes local management responded with a violent anti-union campaign, locking union members in offices and forcing them to resign, illegally firing workers, and psychologically and verbally harassing affiliated workers.
Fyffes' violations in Honduras of national labor laws and international standards have been cited in an AFL-CIO complaint under the U.S.-Central America Free Trade Agreement and an International Labour Organization complaint. For its disregard of union rights, Fyffes was suspended from the Ethical Trading Initiative and de-certified by Fair Trade USA. European and U.S. supermarkets have also raised serious questions and three of the largest UK supermarkets reduced their orders.
ILRF welcomes this agreement as an initial step that Fyffes must take to remediate the labor rights abuses. We expect the CBA to cover workers in all of Fyffes' subsidiaries including plantations, packing plants, greenhouses, and security guard contractors. It should also cover both permanent and temporary workers, given that a majority of the 8,000 workforce is hired on temporary contracts from November to May.
Fyffes has pending lawsuits, fines, and nonpayment of many years of statutorily mandated benefits as determined by the Honduran Ministry of Labor. We urge the company to pay back wages to workers in accordance with the law.
"Organized workers are the best defenders of their own rights. When unions like STAS have the freedom to negotiate legally-binding CBAs with local management, workers can see real changes to their wages, their health, and their lives," said Gabby Rosazza, a campaigner at the International Labor Rights Forum. "Fyffes' new posture towards respecting its workers' rights is positive and we expect that this agreement means that any and all anti-union retaliation will come to an immediate end. Workers and union members should be free from all forms of harassment and not face retaliation for attending STAS meetings or distributing union materials at work. We will be monitoring this closely."