May 30, 2014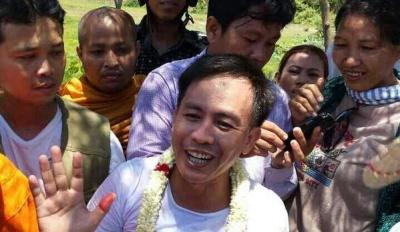 This morning the remaining 22 of the 25 people - garment workers, trade unionists, monks, activists, bystanders - who were arrested in Cambodia on November 12 and January 2 and 3 amidst strikes for higher wages were finally released from prison. Labor and human rights organizations who had been calling for their freedom celebrated their release today as they also firmly called for the dropping of the sentences. The freed detainees have received suspended sentences of one to four-and-a-half years of imprisonment. Several were also fined 8 million riel ($2,000).
In the latest reminder of why Cambodian garment workers have been protesting en masse, 100 garment workers collapsed today in yet another mass fainting. The mass faintings that have been plaguing the Cambodian garment industry are the result of poor working conditions and malnutrition caused by the poverty wages.
ILRF urges all brands sourcing from Cambodia to require their suppliers to pay at least $160 per month now, and to pay higher prices to the factories to enable the wage hike, while also urging the government of Cambodia to raise the minimum wage to $160 per month.
Photos from today:
The 21 arrived #PhnomPenh court just a moment ago. #FreeThe23 #Cambodia #MW160KH pic.twitter.com/KuV04Cg8R5

— CLEC (@cleccambodia) May 29, 2014
Vorn Pao, 1 of the 23, in front Prey Sar prison after the court announced release this morning. #FreeThe23 #Cambodia pic.twitter.com/Vk18LukbY4

— CLEC (@cleccambodia) May 30, 2014
21 detainees were released today at around 11am. Hundreds of supporters welcomed them and marched long way to office. pic.twitter.com/KGjp0JFpk0

— Tola Moeun (@Tolamoeun) May 30, 2014
After being released from prison today, the 23 and their supporters march back to Phnom Penh #FreeThe23 #Cambodia pic.twitter.com/EoEWjP6hKL

— CCHR Cambodia (@cchrcambodia) May 30, 2014
Statement by 24 Cambodian organizations:
May 30, 2014 - We the undersigned civil society groups welcome the decision this morning of the Phnom Penh Municipal Court to suspend the sentences of the 23 men and two minors arrested on November 12 2013 and January 2 and 3 2014, thereby releasing the remaining 22 detainees. However, we express our extreme disappointment at the convictions of all 25 and the heavy fines imposed on some of them, following what was to all independent observers a deeply flawed trial process.
Two of the 25 were arrested during violent clashes between security forces, workers and members of the public which put an end to a march by SL garment factory workers in November last year. The remaining 23 were arrested in early January during a lethal clampdown by mixed security forces to bring to an end a period of mass protest by garment workers and pro-opposition party supporters.
"While we welcome the court's decision to release the 22, we have not seen justice here today," said Heng Samorn, General Secretary of Independent Democracy of Informal Economy Association (IDEA). "They were all still convicted following trials which in fact confirmed the near total lack of evidence against them. The circumstances of the arrests and the fact that the trials were all held at the same time indicate that these cases were wholly political in nature. The aim was not to seek justice but rather to try and bring an end to popular protest and make people afraid to take to the streets to claim their rights."
The events surrounding the arrests of the 25 involved the use of wholly disproportionate force by state authorities against civilians which resulted in at least five deaths and numerous injuries. Almost all attempts by the defendants' lawyers to introduce evidence of this violence during the trials were quickly suppressed by the judges and prosecutors. To date, no action has been taken to punish those responsible for the violence, a fact that was noted by Moeun Tola, Head of the Labor Program at the Community Legal Education Center (CLEC):
"We are extremely happy that these men, who have become a symbol of the struggle of Cambodian workers to receive a minimum wage of $160, will be able to return to their families. However, it remains deeply disappointing that there has still been no justice for the dead and injured of 12 November and January 2 and 3 and that no attempts have been made to find or bring charges against those responsible."
Today's convictions follow a trial process that was characterized by a total absence of fair trial rights. In all three cases the judges failed to act with impartiality, often favouring the prosecution in the admission of evidence and the permission to cross-examine witnesses; there was also little evidence of the presumption of innocence or of the prosecution's burden to prove guilt beyond reasonable doubt, as the judges and prosecutors focused mainly on the defendants' presence at the protests and possible inconsistency of testimony rather than on finding evidence that linked them to the charges.
LICADHO Director, Naly Pilorge said "It was clear throughout the trials that there was insufficient evidence even to accuse most of these men let alone convict them. And yet they have now been forced to spend between five and eight months in pre-trial detention, a number of them with serious injuries sustained during their arrests as well as other health issues requiring urgent medical treatment."
Four of the men, Vorn Pao (President of IDEA), Theng Savoeun (Coordinator of Coalition of Cambodian Farmer Community), Chan Puthisak (community leader from Boeung Kak Lake), and Sokun Sambath Piseth (staff member at Center for Labor Rights of Cambodia) all received unexpectedly heavy sentences of between 4 and 4.5 years after the prosecutor put in a late request to the judge during his concluding comments on May 20, that the charges against them be changed to offences carrying much heavier penalties. Each of the four men has also been fined a sum of 8 million riels (equivalent to 2000US$). Three of the men are prominent activists and campaigners who have taken a lead in land and labor protests in recent years. The fact that their sentences were merely suspended today means that they are at risk of having to serve the remainder of those sentences at a later date if found guilty of other charges.
Signed by:
Action for Environment and Community (AEC)
Banteay Srei
Boeung Kak Lake Community (BKL)
Borei Keila Community (BK)
CamASEAN
Cambodian Center for Independent Media (CCIM)
Cambodian Committee for Women (CAMBOW)
Cambodian Confederation Unions (CCU)
Cambodian Food and Service Worker Federation (CFSWF)
Cambodia's Independent Civil-Servants Association (CICA)
Cambodian League for the Promotion and Defense of Human Rights (LICADHO)
Cambodian Worker Center for Development (CWCD)
Cambodian Youth Network (CYN)
Coalition of Cambodian Farmer Community (CCFC)
Community Legal Education Centre (CLEC)
Community Peace-Building Network (CPN)
Empowering Youth in Cambodia (EYC)
Equitable Cambodia (EC)
Farmer Development Association (FDA)
Independent Democracy of Informal Economy Association (IDEA)
Neutral and Impartial Committee for Free and Fair Election in Cambodia (NICFEC)
Sahmakum Teang Tnaut (STT)
The Cambodian NGO Committee on CEDAW (NGO-CEDAW)
Thmor Kol Community
 
---
Full details of the convictions and sentences
Yak Jin verdict: one charge, article 411, relating to damage to property was dropped for all of the ten accused. Vorn Pao, Chan Puthisak, and Sokun Sambath Piseth were found guilty of articles 28 and 218 of the penal code and sentenced to 4.5 years' imprisonment as well as being fined 8 million riels (equivalent to US$2,000). Theng Savoeun was convicted of the same charges and sentenced to 4 years' imprisonment and fined 8 million riels. The remaining six accused were found guilty of article 218 of the penal code with three men – Reth Roatha, Nakry Vanda, Yong Sam On – sentenced to 2.5 years' imprisonment, and three men – Chhim Thoeun, Teng Chanthy, Lorn San – sentenced to 3 years' imprisonment. All of them had the remainder of their prison sentences suspended.
Veng Sreng verdicts: three men – Chea Sarath, Bou Sarith, Yon Sok Chea – were found guilty of articles 218, 411, and 502 of the penal code as well as article 78 of the traffic law and given sentences of between 1 and 4 years' imprisonment. The remaining ten men were found guilty of articles 218 and 411 of the penal code and sentenced to between 3 and 4 years' imprisonment. All of them had the remainder of their prison sentences suspended.
Stung Meanchey verdict: the two accused – Vanny Vanan and Meas Nun – were found guilty of articles 218, 411, 502, and 504 of the penal code. Vanan was sentenced to 3 years' imprisonment while Nun was sentenced to 6 months' imprisonment. The pair also had the remainder of their prison sentences suspended.
Penal code articles:
Article 28: Instigation
Article 218: Aggravated circumstances of intentional acts of violence
Article 411: Aggravated circumstances of intentionally causing damage
Article 502: Insult [to public officials]
Article 504: Aggravated circumstances of obstruction to public officials
Traffic law article:
Article 78: Obstacle to public traffic
Follow the #freethe23 hashtag on twitter. For background information, watch this video.